Source: Syfy
schedulebot
[
NOTE: Syfy schedule subject to change(s)
]
THE TWILIGHT ZONE - SYFY: INDEPENDENCE DAY MARATHON THURSDAY, JULY 4, 2013
(
Sheridan Comerate, Ron Howard and Gig Young
)
08:00 AM
Walking Distance
A man's need to escape the pressure of his work is so great that he slips back 30 years into his own childhood.
Cast includes Gig Young, Frank Overton, Irene Tedrow, Michael Montgomery, Ron Howard, Byron Foulger, Sheridan Comerate, Joseph Corey and Pat O'Malley.
(
Jack Albertson, John McLiam, Joseph Bernard, Sandy Kenyon
)
08:30 AM
The Shelter
A group of neighbors turns into a hostile mob when they try to invade one family's bomb shelter, believing a nuclear attack is imminent.
Cast includes Larry Gates, Joseph Bernard, Jack Albertson, Peggy Stewart, Sandy Kenyon, Michael Burns, Jo Helton, Moria Turner, Mary Gregory and John McLiam.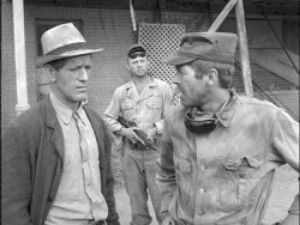 (
John Anderson, Don Wilbanks and James Coburn
)
09:00 AM
The Old Man In The Cave
A small community has survived the aftermath of a nuclear holocaust by accepting the advice of The Old Man in the Cave.
Cast includes James Coburn, John Anderson, Josie Lloyd, John Craven and John Marley.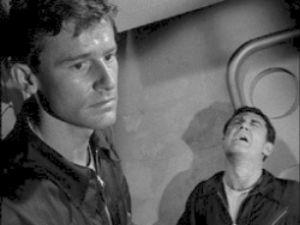 (
Roddy McDowall, Paul Comi
)
09:30 AM
People Are Alike All Over
Sam Conrad (
Roddy McDowall
), the first human to visit Mars, is relieved to find that the Martians treat him kindly and even build him a house like his home on Earth — but with one big difference.
Cast includes Roddy McDowall, Susan Oliver, Paul Comi, Byron Morrow and Vic Perrin.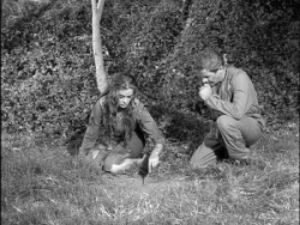 (
Antoinette Bower, Richard Basehart
)
10:00 AM
Probe 7 Over And Out
The lone survivors of two devastated planets meet on a new world.
Cast includes Richard Basehart, Antoinette Bower, Harold Gould and Barton Heyman.
(
Richard Erdman, Herbie Faye
)
10:30 AM
A Kind Of Stopwatch
A talkative man acquires a stopwatch with the power to halt all other action in the world.
Cast includes Richard Erdman, Herbie Faye, Leon Belasco, Doris Singleton, Roy Roberts, Dick Wessel, Ray Kellogg and Ken Drake.
(
Cliff Robertson
)
11:00 AM
A Hundred Yards Over The Rim
A 19th-century Western settler, desperately searching for water for his sick son, takes a walk that inexplicably leads him into the next century.
Cast includes Cliff Robertson, John Crawford, Edward Platt and John Astin.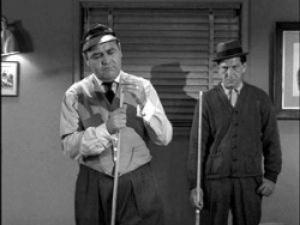 (
Jonathan Winters, Jack Klugman
)
11:30 AM
A Game Of Pool
A frustrated pool champ (
Jack Klugman
) has beaten everyone. Everyone except one man; the legend, Fat's Brown (
Jonathan Winters
). Brown is dead, and the champ can only curse his name. But guess who just walked in.
Cast includes Jack Klugman and Jonathan Winters.
(
Adam Williams, Fred Clark and Jean Carson
)
12:00 PM
A Most Unusual Camera
A pair of petty thieves find that a camera they have just stolen can predict the future by the pictures it takes.
Cast includes Fred Clark, Jean Carson, Adam Williams and Marcel Hillaire.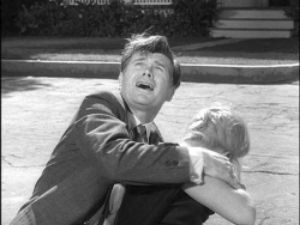 (
Barry Nelson and Nancy Malone
)
12:30 PM
Stopover In A Quiet Town
The day after a drunken party, a married couple awakens in an unfamiliar house with no idea how they got there.
Cast includes Barry Nelson and Nancy Malone.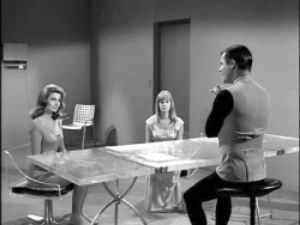 (
Suzy Parker, Collin Wilcox Paxton and Richard Long
)
01:00 PM
Number Twelve Looks Just Like You
A young woman resists pressure to be transformed into a state-controlled image of flawless beauty.
Cast includes Collin Wilcox Paxton, Richard Long, Pamela Austin and Suzy Parker.
(
Charles Herbert, Dana Dillaway, Josephine Hutchinson, Veronica Cartwright
)
01:30 PM
I Sing The Body Electric
A widowed father buys his three young children an electronic grandmother (
Josephine Hutchinson
) to the delight of all but one of them.
Cast includes Josephine Hutchinson, David White, Vaughn Taylor, Doris Packer, Charles Herbert, Veronica Cartwright, Dana Dillaway, Susan Crane, Paul Nesbitt and Judee Morton.
(
William Windom, Susan Harrison
)
02:00 PM
Five Characters In Search Of An Exit
Five people — a ballet dancer, a major, a clown, tramp and a bagpipe player — trapped in a featureless enclosure with no idea how they got there attempt to escape.
Cast includes Susan Harrison, William Windom, Murray Matheson, Kelton Garwood and Clark Allen.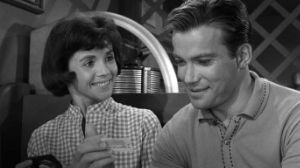 (
Patricia Breslin, William Shatner
)
02:30 PM
Nick Of Time
A superstitious newlywed husband (
William Shatner
) finds a penny fortune-telling machine that makes uncannily accurate predictions about his life.
Cast includes
Star Trek's
William Shatner, Patricia Breslin, Guy Wilkerson, Stafford Repp, Walter Reed and Dee Carroll.
(
John Marley, Russell Collins, Ernest Truex
)
03:00 PM
Kick The Can
The magic of a children's game enables a group of old people to recapture their youth.
Cast includes Ernest Truex, Russell Collins, John Marley, Hank Patterson, Earle Hodgins, Marjorie Bennett, Lenore Shanewise, Anne O'Neal and Burt Mustin.
(
Earl Holliman
)
03:30 PM
Where Is Everybody
(
Series Pilot Episode - Excellent!
)
Greeted by empty streets, a man (
Earl Holliman
) searches a small town to find that he is completely and inexplicably alone. The series pilot.
Cast includes Earl Holliman, James Gregory, Paul Langton, James McCallion, John Conwell, Jay Overholts, Carter Mullally Jr., Garry Walberg and Jim Johnson.
(
John Larch, Bill Mumy, Max Showalter, Jeanne Bates [foreground]
)
04:00 PM
It's A Good Life
A six-year-old boy (
Bill Mumy
) holds a town in terror with his powers to change or destroy anyone or anything at will.
Cast includes John Larch, Cloris Leachman, Don Keefer, Bill Mumy, Alice Frost, Max Showalter, Jeanne Bates, Lenore Kingston and Tom Hatcher.
(
Inger Stevens
)
04:30 PM
The Hitch-hiker
Driving cross-country, a girl (
Inger Stevens
) keeps seeing the same hitch-hiker on the road ahead, beckoning her toward a fatal accident.
Cast includes Inger Stevens, Adam Williams, Lew Gallo, Lew Gallo, Leonard Strong, Russ Bender and George Mitchell.
(
Fritz Weaver and Edward Andrews
)
05:00 PM
Third From The Sun
Two families steal a rocket ship and flee to another world before atomic war devastates their own.
Cast includes Fritz Weaver, Edward Andrews, Joe Maross and Denise Alexander.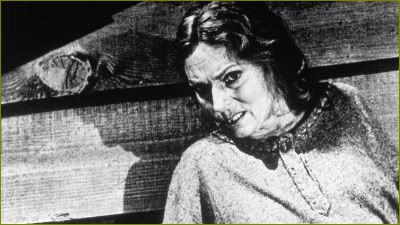 Anges Moorehead in The Invaders
05:30 PM
The Invaders
- * Awesome Episode! *
A lone woman battles two miniature spacemen whose craft crashes into her isolated farmhouse.
Cast includes Agnes Moorehead.
06:00 PM
The Masks
A wealthy old man compels his hateful family to wear masks they think are the opposite of their personalities. When they remove the masks a frightening change has taken place.
Cast includes Robert Keith, Milton Selzer, Virginia Gregg and Alan Sues.
(
Telly Savalas
)
06:30 PM
Living Doll
A man is threatened with revenge by the expensive talking doll he is planning to dispose of.
Cast includes Telly Savalas, Mary LaRoche, and Tracy Stratford.
(
Burgess Meredith, Fritz Weaver
)
07:00 PM
The Obsolete Man
A librarian (
Burgess Meredith
) in a future society is declared obsolete and told he must die.
Cast includes Burgess Meredith, Fritz Weaver, Josip Elic, Harry Fleer, Barry Brooks, Harold Innocent and Jane Romeyn.
(
Burgess Meredith
)
07:30 PM
Time Enough At Last
Nearsighted, meek bank clerk Henry Bernis (
Burgess Meredith
) is the sole survivor of an H-bomb attack. At last he has the time to engulf himself in his passion for books. Or so he thinks.
Cast includes Burgess Meredith, Vaughn Taylor and Jacqueline deWit.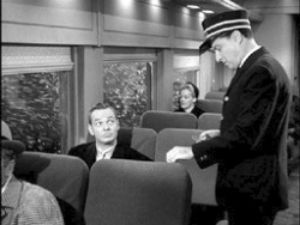 (
James Daily, Jason Wingreen
)
08:00 PM
A Stop At Willoughby
A harassed executive escapes into the peaceful town of Willoughby in July 1880.
Cast includes James Daly, Howard Smith, Patricia Donahue, Jason Wingreen, Mavis Neal Palmer and James Maloney.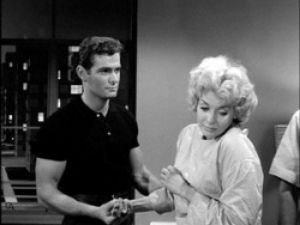 (
Edson Stroll, Donna Douglas
)
08:30 PM
Eye Of The Beholder
In a hospital room, her face completely covered by medical wrappings, a woman waits to see if a last-chance operation on her face has fixed the freakishness that will have her sent to a reservation of outcasts.
Cast includes Maxine Stuart, William D. Gordon, Jennifer Howard, George Keymas, Joanna Heyes, Edson Stroll and Donna Douglas.
09:00 PM
To Serve Man
- * Excellent Episode! *
Apparently benign alien emissaries show mankind how to end the misery of war, plague and famine.
Cast includes Lloyd Bochner, Susan Cummings, Richard Kiel, Hardie Albright, Theodore Marcuse, Bartlett Robinson, Carleton Young, Nelson Olmsted, Robert Tafur, Lomax Study and Jerry Fujikawa.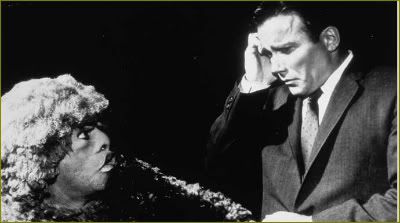 (
William Shatner
)
09:30 PM
Nightmare At 20,000 Feet
A newly released mental patient (
William Shatner
) is the only one able to see a gremlin ripping up the wing of his airliner.
Cast includes
Star Trek's
William Shatner, Christine White, Ed Kemmer and Asa Maynor.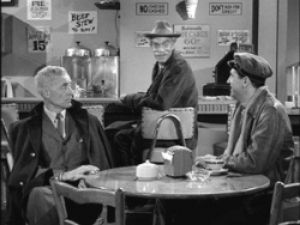 (
John Hoyt, Jack Elam, William Kendis
)
10:00 PM
Will The Real Martian Please Stand Up
On the night of a
UFO
sighting, seven people at a diner claim to be of Earth, though one of them is not.
Cast includes John Hoyt, Jean Willes, Jack Elam, Barney Phillips, John Archer, William Kendis, Morgan Jones, Gertrude Flynn, Bill Erwin, Jill Ellis and Ron Kipling.
(
Jack Weston, Anne Barton, Claude Akins
)
10:30 PM
The Monsters Are Due On Maple Street
A mysterious power failure causes paranoid suburban residents to suspect one another of being disguised creatures from outer space.
Cast includes Claude Akins, Barry Atwater, Jack Weston, Jan Handzlik, Amzie Strickland, Burt Metcalfe, Mary Gregory, Jason Johnson, Anne Barton, Leah Waggner, Joan Sudlow, Ben Erway, Lyn Guild, Sheldon Allman and Bill Walsh.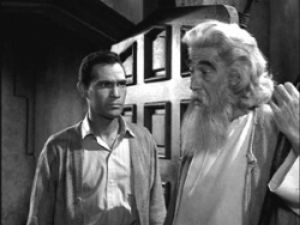 (
H.M. Wynant, John Carradine
)
11:00 PM
The Howling Man
Taking refuge in a European monastery during a storm, a man hears someone howling and is told it's the Devil who is being held prisoner.
Cast includes John Carradine, H.M. Wynant, Robin Hughes and Friedrich von Ledebur.
(
Sandy Kenyon, Wayne Heffley and John Anderson
)
11:30 PM
The Odyssey Of Flight 33
A commercial airliner, en route to New York, breaks through the time barrier into the prehistoric past.
Cast includes John Anderson, Paul Comi, Sandy Kenyon, Wayne Heffley, Harp McGuire, Beverly Brown and Nancy Rennick.
THE TWILIGHT ZONE - SYFY: INDEPENDENCE DAY MARATHON FRIDAY, JULY 5, 2013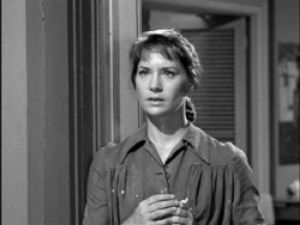 (
Lois Nettleton
)
12:00 AM
The Midnight Sun
The Earth has fallen out of its orbit and is drawing closer to the Sun, inflicting ever-increasing heat on the planet.
Cast includes Lois Nettleton, Betty Garde, Tom Reese, Jason Wingreen, Juney Ellis and William Keene.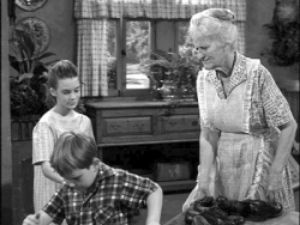 (
Mary Badham, Tod Andrews, Georgia Simmons
)
12:30 AM
The Bewitchin' Pool
Two unloved children escape from their squabbling parents to a world that offers them a chance of happiness with a strange, kindly woman.
Cast includes
To Kill A Mockingbird's
Mary Badham, Dee Hartford, Tod Andrews, Jeffrey Byron, Kim Hector and Georgia Simmons.
(
The Dummy
)
01:00 AM
The Dummy
A ventriloquist becomes convinced that his dummy has a will and a life of its own.
Cast includes Cliff Robertson, Frank Sutton and George Murdock.
(
Warren Stevens
)
01:30 AM
Dead Man's Shoes
A down-and-out man steals the fancy shoes from the body of a murdered gangster and finds himself living in the dead man's footsteps.
Cast includes Warren Stevens, Richard Devon, Joan Marshall, Ben Wright, Harry Swoger, Ron Hagerthy, Florence Marly and Joseph Mell.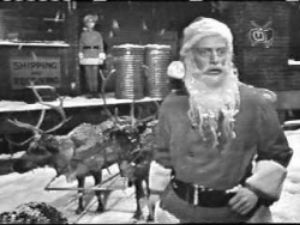 (
Dasher, Dasher [or possibly Dancer, Prancer, Vixen, Comet, Cupid, Donner, Blitzen or Rudolf], Art Carney
)
02:00 AM
Night Of The Meek
After a derelict Santa Claus (
Art Carney
) is fired on Christmas Eve, he finds a mysterious bag that gives out presents. With this bag he sets out to fulfill his one wish - to see the less fortunate inherit the bounties of Christmas.
Cast includes Art Carney, John Fiedler, Robert P. Lieb, Val Avery, Meg Wyllie, Kay Cousins Johnson and Burt Mustin.
(
Gladys Cooper
)
02:30 AM
Night Call
A bedridden spinster receives mysterious phone calls from her long-dead fiancé.
Cast includes Gladys Cooper, Nora Marlowe and Martine Bartlett.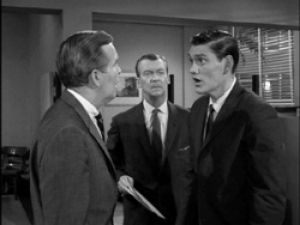 (
Hayden Rorke, Dan Tobin, Dick York
}
03:00 AM
A Penny For Your Thoughts
Timid bank clerk Victor Pool (
Dick York
) discovers that a coin that lands on its edge as he pays for a paper leaves him with the power to read minds.
Cast includes
Bewitched's
Dick York, June Dayton, Dan Tobin, Cyril Delevanti and Hayden Rorke.
(
Lili Darvas and Bill Mumy
)
03:30 AM
Long Distance Call
A young boy (
Bill Mumy
) keeps in touch with his dead grandmother via the toy telephone she once gave him.
Cast includes Philip Abbott, Lili Darvas, Patricia Smith,
Lost In Space's
Bill Mumy, Jenny Maxwell, Reid Hammond, Henry Hunter and Lew Brown.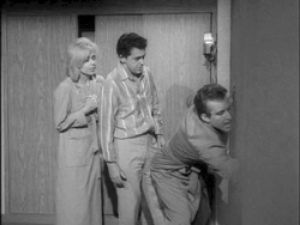 (
Sarah Marshall, Charles Aidman, Robert Sampson
)
04:00 AM
Little Girl Lost
A couple is awakened in the middle of the night by the cries of their six-year-old daughter who has fallen through a mysterious door into another dimension.
Cast includes Sarah Marshall, Robert Sampson and Charles Aidman.
(
Anne Francis
)
04:30 AM
The After Hours
A woman who buys a thimble on the ninth floor of a department store later discovers the floor doesn't exist, and makes a startling discovery after the store closes.
Cast includes Anne Francis, Elizabeth Allen, James Millhollin, John Conwell, Patrick Whyte and Nancy Rennick.
(
Claude Akins
)
05:00 AM
The Little People
On a desolate planet, two astronauts discover an entire society populated by beings only 1/100th their size. One of them decides to rule the society as god.
Cast includes Joe Maross, Claude Akins, Michael Ford and Robert Eaton.
(
Jackie Cooper, Stafford Repp
)
05:30 AM
Caesar And Me
Jackie Cooper
plays a struggling ventriloquist who turns to crime, on advice from his suddenly vociferous dummy.
Cast include Jackie Cooper, Morgan Brittany, Sarah Selby, Don Gazzaniga and Stafford Repp.