Source: Syfy
schedulebot
[
NOTE: Syfy schedule subject to change(s)
]

SAVAGE CRITTERS MOVIE MARATHON - SYFY: SCHEDULE MONDAY, JULY 1, 2013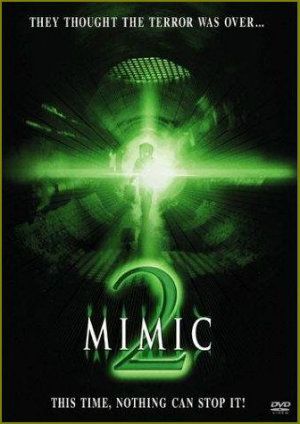 08:00 AM
Mimic 2
When a cockroach-spread plague threatened to decimate the child population of New York City in the original
Mimic
, biologist Susan Tyler and her research associates developed a species of "
Judas
" bugs and introduced them into the environment, where they were to "
mimic
" the diseased roaches and infiltrate their grubby habitats. The plan worked until the bugs evolved to mimic their next prey.....humans! Just when they were all thought to be dead, the giant cockroaches are back, and this time they've mutated to take on human form!
Cast includes Alix Koromzay, Bruno Campos,
Blue Bloods'
Will Estes, Gaven E. Lucas, Edward Albert, Jon Polito, Jody Wood, Jim O'Heir and Brian Leckner.
10:00 AM
Infestation
A slacker (
Christopher Marquette
) liberates a group of strangers to fight oversized alien insects that have taken over the world.
Cast includes Chris Marquette, Brooke Nevin, Kinsey Packard, E. Quincy Sloan, Wesley Thompson,
Star Trek Enterprises'
Linda Park, Deborah Geffner and Ray Wise.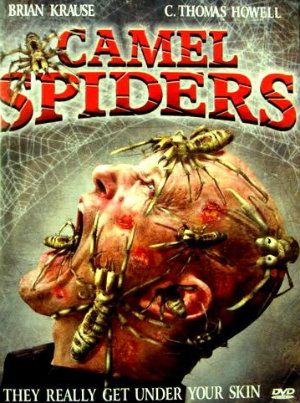 12:00 PM
Camel Spiders
Deadly spiders from the Middle East get transported to the southwest U.S., where they boldly seek human prey.
Cast includes Brian Krause, C. Thomas Howell, Melissa Brasselle, Diana Terranova, GiGi Erneta, Jon Mack, Michael Swan, Hayley Sanchez, Kurt Yaeger, Michael Bernardi, Matthew Borlenghi and Gerald Webb.
02:00 PM
Ice Spiders
A ski resort is terrorized by giant spiders that are intent on finding their next victims after government scientists lose control of an engineering experiment.
Cast includes Patrick Muldoon, Vanessa Williams, Thomas Calabro, David Millbern, Noah Bastian, Carleigh King and Stephen J. Cannell.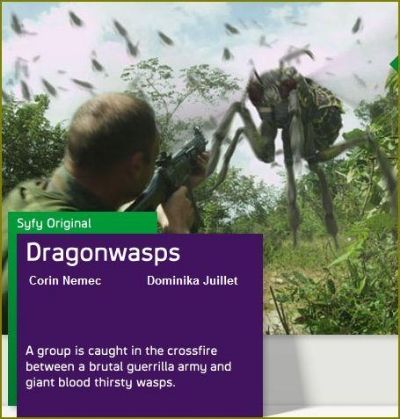 04:00 PM
Dragonwasps
When her father mysteriously disappears on an expedition, beautiful entomologist Gina Humphries (
Dominika Juillet
) and her fiery assistant, Rhonda (
Nikolette Noel
), set out to search the rain forests of Belize. Due to numerous robberies and assaults in the jungle, they are escorted by heavily-armed soldiers. Guerillas, lead by the infamous Jaguar (
Gildon Roland
), ambush the convoy and incite a bloody shootout. Just when things can't get worse, a horde of murderous Dragon Wasps, massive flying bugs that shoot flame from their abdomens, swarms the soldiers. Now the military must defeat Jaguar's bandits and survive the fearsome insect onslaught as they venture inside the Dragon Wasps' hive.
Cast includes
Stargate SG-1's
Corin Nemec, Gildon Roland, Dominika Juillet, Benjamin Easterday, Nikolette Noel and Cosondra Sjostrom.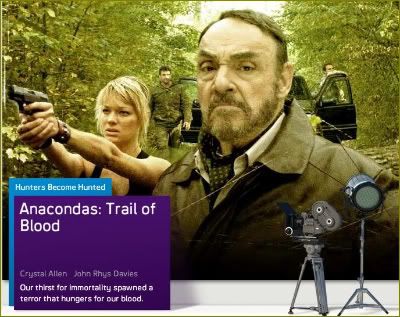 06:00 PM
Anacondas: Trail Of Blood
A genetically created Anaconda, cut in half, regenerates itself into two aggressive giant snakes, due to the Blood Orchid.
Cast includes Crystal Allen, Linden Ashby, Danny Midwinter, Ana Ularu, Claudiu Bleont, Anca-Ioana Androne and John Rhys-Davies.