Source:
SciFi and TV Talk
[follow link for complete interview]

SCIFI AND TV TALK: A Shining Knight: Interview with Sinbad's Elliot Knight
by
Steve Eramo
06/27/2013
Having possible Persian origins, the fictional
Sinbad the Sailor
is a young man who set sail throughout the Seven Seas where he explored a myriad of magical lands and battled fantastical as well as supernatural creatures. Over the centuries, his legendary adventures have been chronicled in various forms, including feature films, animation and on TV. The latest is the 2012 UK TV series
Sinbad
that stars
Elliot Knight
in the title role (which airs Saturday nights @ 9:00 p.m. EST/PST in the States on
Syfy
). With his good looks, buff physique and, of course, talent, he is the ideal fit for the role, but it is one that the British actor never thought he would end up booking.
"
I actually heard about the part while I was at drama school in Manchester
," recalls
Knight
. "Up to that point I hadn't done any professional work, but I had a meeting with my age
nt and she said to me, 'There's this great role called Sinbad that I think you'd be good for.' I read the script and thought, 'This sounds amazing. This is my dream role and I'd love to do it.' It reminded me of the types of TV shows that I liked to watch when I was a kid and still like to watch now...
... "
So I eventually wound up trying out for the part and had four auditions, the first three of which were pretty much standard. I was given selected scenes to do from the first couple of scripts that showed the best as well as different sides of the Sinbad character. To be perfectly honest, I went in there never expecting to get the job. It was my first audition out of drama school, so I just figured I'd go along, meet some people, get some audition experience, and then later on down the road I might get a job out of it.
"
In fact, I received an offer after my fourth and final audition, which was extremely physical. I remember waiting in the hall outside the audition room and there was this guy there who was pacing up and down with sweat dripping off his face. I realized it was the other actor who was up for the role. I began chatting with him and he told me how intense it had been. I suddenly thought, 'Oh, wow, maybe it's not going to be as plain sailing as before
...'
Sinbad cast includes Elliot Knight, Marama Corlett, Elliot Cowan, Junix Inocian, Dimitri Leonidas, Fringe's Orla Brady, Estella Daniels and Lost's Naveen Andrews.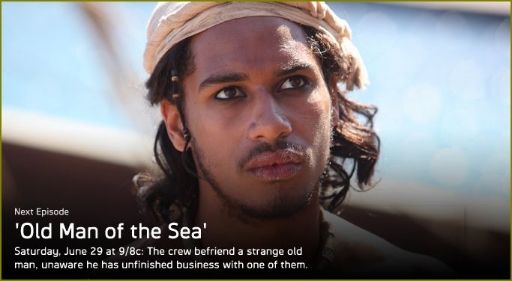 NEW episodes of
Sinbad
air at 9/8C on Saturday on
Syfy
.
CLICK HERE TO VIEW THE EPISODE TRAILER FOR 'OLD MAN OF THE SEA,' AIRING JUNE 29, 2013.