Source: Syfy
schedulebot
[
NOTE: Syfy schedule subject to change(s)
]

HORROR MOVIE MARATHON - SYFY: SCHEDULE MONDAY, JUNE 24, 2013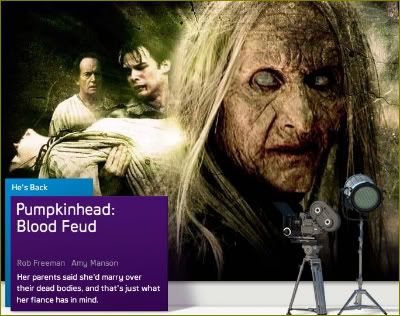 08:00 AM
Pumpkinhead: Blood Feud
Amy Manson
and
Bradley Taylor
star in this sequel in the "revenge demon" franchise, in which the titular monster is summoned to end a long-running feud between two hill families.
Lance Henriksen
reprises his role as Ed Harley.
Cast includes Bob Gunter, Amy Manson, Bradley Taylor, Claire Lams, Rob Freeman, Ovidiu Niculescu, Peter Barnes and Lance Henriksen.
10:00 AM
The Pumpkin Karver
A pumpkin-headed killer is an uninvited guest at a wild Halloween party on a deserted farm.
Cast includes Michael Zara, Amy Weber, David J. Wright, Terrence Evans and Jonathan Conrad.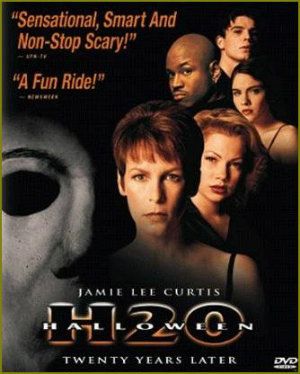 12:00 PM
Halloween H2o
Laurie Strode (
Jamie Lee Curtis
), now the dean of a Northern California private school with an assumed name, must battle the Shape one last time and now the life of her own son hangs in the balance.
Cast includes Jamie Lee Curtis, Adam Arkin, Michelle Williams, Adam Hann-Byrd, Jodi Lyn O'Keefe, Janet Leigh, Josh Hartnett,
NCIS: Los Angeles'
LL Cool J, Joseph Gordon-Levitt, Beau Billingslea, John Cassini, Jody Wood and Chris Durand.
02:00 PM
My Soul To Take
A serial killer returns 16 years after his death to claim the seven children born on the night he was killed. Meanwhile, the maniac's son Adam (
Max Thieriot
)---one of his intended victims---battles to lay his father's bloody legacy to rest.
Cast includes Max Thieriot, John Magaro, Denzel Whitaker, Zena Grey, Nick Lashaway, Paulina Olszynski, Jeremy Chu, Emily Meade, Raúl Esparza, Jessica Hecht, Frank Grillo, Danai Gurira, Harris Yulin, Shareeka Epps, Elena Hurst, Dennis Boutsikaris and Felix Solis.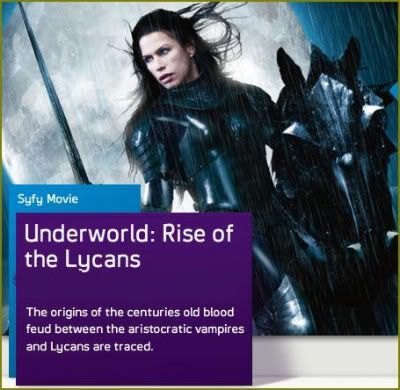 04:00 PM
Underworld: Rise Of The Lycans
A prequel to the first two Underworld films, this fantasy explains the origins of the feud between the Vampires and the Lycans. Aided by his secret love, Sonja (
Rhona Mitra
), courageous Lucian (
Michael Sheen
) leads the Lycans in battle against brutal Vampire king Viktor (
Bill Nighy
). Determined to break the king's enslavement of his people, Lucian faces off against the Death Dealer army in a bid for Lycan independence.
Cast includes Michael Sheen, Bill Nighy, Rhona Mitra, Steven Mackintosh, Kevin Grevioux, David Aston, Geraldine Brophy and Leighton Cardno.
06:00 PM
The Ruins
Four American tourists vacationing in Cancun visit an archaeological dig with some foreign friends in the Mayan jungle, but when local villagers attack them, they become trapped in a temple covered in vines that seem to be alive.
Cast includes Jonathan Tucker, Jena Malone, Laura Ramsey,
The Following's
Shawn Ashmore, Joe Anderson and Dimitri Baveas.