Source: BBC America
schedulebot

DOCTOR WHO: REVISITED - BBC AMERICA: SCHEDULE SATURDAY, JUNE 29, 2013
06:00PM
The First Doctor
The First Doctor (
William Hartnell
) introduced viewers to an incredible show that is still popular 50 years later. Take a look at the
TARDIS
, meet his companions and finally confront his most famous foes, the
Daleks
.
06:30PM
The Second Doctor
The Second Doctor (
Patrick Troughton
) brought new energy to the series. Take a look at the fearless Scottish highlander companion Jamie McCrimmon and one of the Doctor's most iconic foes, the emotionless
Cyberman
!
07:00PM
The Third Doctor
Along with the introduction of color, the Third Doctor (
Jon Pertwee
) brought action, stunts and car chases to
Doctor Who
. Check out the Doctor's helicopters and hovercrafts, look at how the Doctor joined the British Army and get acquainted with
The Master
!
07:30PM
The Fourth Doctor
Celebrate the Fourth Doctor,
Tom Baker
, who quickly made the part his own. With his eccentric style of dress, speech and his trademark long scarf, the Fourth Doctor became a recognizable figure.
08:00PM
The Fifth Doctor
Look back at the Fifth Doctor,
Peter Davison
, with a discussion of the return of two popular foes, the emotionless
Cybermen
and the ever-deceitful
Master
.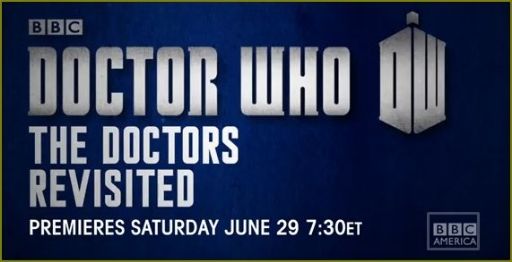 08:30PM
The Sixth Doctor NEW
2013 is
DOCTOR WHO's
50th Anniversary. Each month, BBC AMERICA takes the
TARDIS
back in time with Brand New Specials on all eleven Doctors. This month, it's Sixth Doctor
COLIN BAKER
!
Don't miss the Premiere of the sixth
DOCTOR WHO: THE DOCTORS REVISITED
Special, plus the classic Sixth Doctor story "
Vengeance on Varos
" *** Saturday June 29 at 7:30pm ET *** only on BBC America.
Take an in-depth look at the sixth incarnation of the truly timeless Time Lord - who "
turned [the Doctor] into this grand-standing showoff
." With exclusive interviews with lead writer and executive producer
STEVEN MOFFAT
, Sixth Doctor companions
NICOLA BRYANT
(Peri Brown) and
BONNIE LANGFORD
(Mel Bush), examining the Sixth Doctor's adventures and discussing his famous foes.
Then, in the story "
Vengeance on Varos
," the Doctor visits the planet Varos to obtain the rare ore Zeiton-7, vital to the functioning of his
TARDIS
. But Varos is a dangerous place, where rebels are tortured on live television and executions are used to win votes from the public. Trapped in the dreaded Punishment Dome, the Doctor and his companion Peri must fight for their lives - and save the starving population from the machinations of the villainous reptilian Sil.
11:00PM
The Sixth Doctor
Jun 30 1:30AM
The Fifth Doctor