Source: Syfy
schedulebot
[
NOTE: Syfy schedule subject to change(s)
]

UNDOMESTICATED CRITTERS MOVIE MARATHON - SYFY: SCHEDULE MONDAY, MAY 27, 2013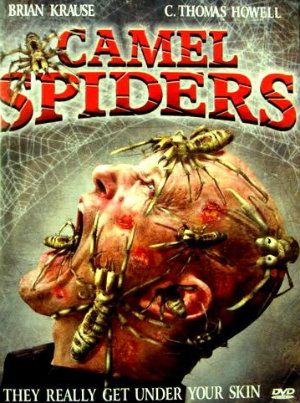 08:00 AM
Camel Spiders
Deadly spiders from the Middle East get transported to the southwest U.S., where they boldly seek human prey.
Cast includes Brian Krause, C. Thomas Howell, Melissa Brasselle, Diana Terranova, GiGi Erneta, Jon Mack, Michael Swan, Hayley Sanchez, Kurt Yaeger, Michael Bernardi, Matthew Borlenghi and Gerald Webb.
10:00 AM
Cyclops
A brave general (
Kevin Stapleton
) takes on the menace of a cyclops at the behest of a corrupt Roman emperor (
Eric Roberts
).
Cast includes Eric Roberts, Kevin Stapleton, Frida Farrell, Craig Archibald and Mike Straub.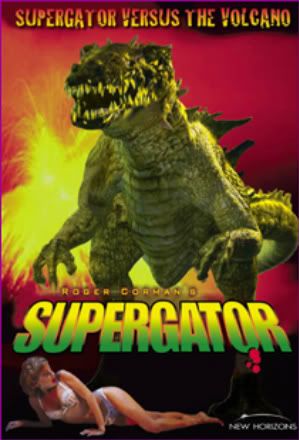 12:00 PM
Supergator
Scott Kinney (
Brad Johnson
) is an American geologist monitoring a local volcano when the
Supergator
, a prehistoric alligator recreated from fossilized DNA escapes from a secret bio-engineering research center. Kinney joins forces with another scientist and a Texan alligator hunter as they pursue the monster as it heads down river intent on destroying a luxurious resort packed with tourists.
Cast includes Brad Johnson, Kelly McGillis, Bianca Lawson, Mary Alexandra Stiefvater and Josh Kelly.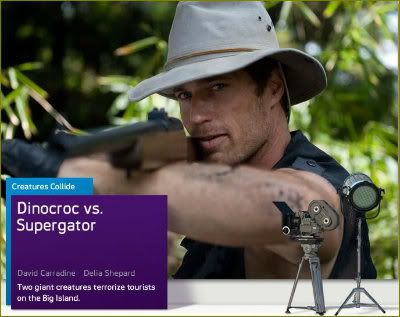 02:00 PM
Dinocroc Vs Supergator
Enormous reptiles escape from a research facility on a tropical island and feast on unwary tourists, culminating in a clash between a prehistoric crocodile and a monstrous alligator.
Cast includes David Carradine, James C. Burns, John Callahan, Lisa Clapperton, Bryan Hanna, Terrill Hardaway, Rib Hillis, Brooks Kephart, Corey Landis, Katy Magnuson, Amy Rasimas Holt, Jeff Rector, Travis Richey, Jenny Robinson, Tamie Sheffield, Delia Sheppard, Steve Silverie and Michael Swan.
04:00 PM
Dinoshark
A dinosaur-shark hybrid terrorizes a resort in Mexico, and it's up to a young fishing boat captain to stop it.
Cast include
Haven's
Eric Balfour, Iva Hasperger, Aarón Díaz, Humberto Busto and Richard Miller.
06:00 PM
Sharktopus
A scientist (
Eric Roberts
) working for the military develops a monstrous shark-octopus hybrid, which goes on a killing spree on the resort beaches of Mexico after the mechanism that controls the beast is accidentally destroyed.
Cast includes Eric Roberts, Kerem Bursin, Sara Malakul Lane, Héctor Jiménez, Liv Boughn, Julian Gonzalez Esparza, Blake Lindsey and Peter Nelson.
08:00 PM
Piranhaconda
Part Snake! Part Fish! All Killer!
A piranha-anaconda hybrid terrorizes a movie crew after a scientist steals an egg from the creature's nest.
Cast includes Michael Madsen, Rachel Hunter, Shandi Finnessey, Teri Ivens, Rib Hillis, Chris De Christopher, Kurt Yaeger, Michael Swan and Christina DeRosa.
10:00 PM
Dinocroc Vs Supergator
12:00 AM
Dinoshark
02:00 AM
Sharktopus