Source: Syfy
schedulebot
[
NOTE: Syfy schedule subject to change(s)
]

WRONG TURN MOVIE MARATHON - SYFY: SCHEDULE TUESDAY, APRIL 23, 2013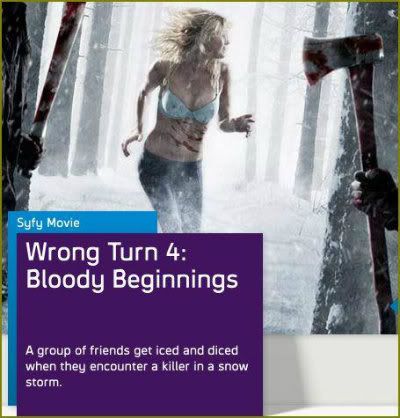 01:30 PM
Wrong Turn 4: Bloody Beginnings
Tenika Davis
stars in this horror prequel about a group of college students who stumble upon an abandoned sanatorium and are hunted by the facility's former patients.
Cast includes Sean Skene, Blane Cypurda, Dan Skene, Tristan Carlucci, Scott Johnson, Bryan Verot, Jennifer Pudavick, Tenika Davis, Kaitlyn Wong, Terra Vnesa, Victor Zinck Jr., Dean Armstrong, Ali Tataryn, Samantha Kendrick, Arne MacPherson and Kristen Harris.
03:30 PM
Wrong Turn 5: Bloodlines
A hungry clan of inbred cannibals feast on unsuspecting college students during a music festival in West Virginia.
Cast includes Doug Bradley, Camilla Arfwedson, Simon Ginty, Roxanne McKee, Paul Luebke, Oliver Hoare, Kyle Redmond-Jones, Amy Lennox, Duncan Wisbey, Radoslav Parvanov, George Karlukovski, Borislav Iliev, Peter Brooke and
Game of Thrones
Finn Jones.
05:30 PM
Wrong Turn
Six young people get lost in the West Virginia backwoods and make
DELIVERANCE
(1972) jokes until the jokes stop being funny. That would be right around the time the first hapless out of towner winds up being butchered for lunch.
Cast includes Desmond Harrington, Eliza Dushku, Emmanuelle Chriqui, Jeremy Sisto, Kevin Zegers, Lindy Booth, Julian Richings, Garry Robbins, Ted Clark, Yvonne Gaudry and Joel Harris.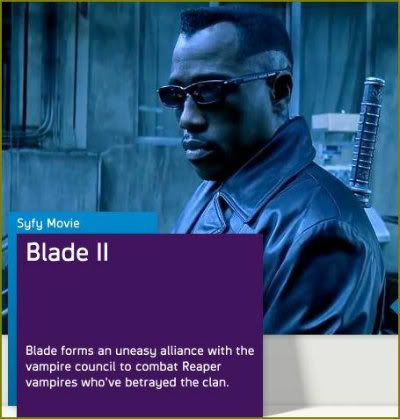 07:30 PM
Blade II
A vampire slayer (
Wesley Snipes
) teams up with the undead to take down a band of mutant bloodsuckers.
Cast includes Wesley Snipes, Kris Kristofferson, Ron Perlman, Leonor Varela,
The Walking Dead's
Norman Reedus, Luke Goss and
Defiance's
Tony Curran.