Source: Syfy
schedulebot
[
NOTE: Syfy schedule subject to change(s)
]
EUREKA - STARGATE ATLANTIS - SYFY: EARTH DAY PROGRAMMING TUESDAY, APRIL 23, 2013
[
NOTE
: In celebration of
Earth Day 2013
, Syfy is airing "Earth Day" themed episodes from
Eureka
and
Stargate Atlantis
.]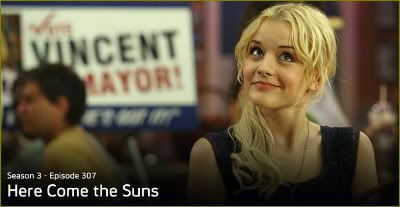 02:00 AM
Eureka
Here Come The Suns
(season 2)
Eureka season five cast includes Colin Ferguson, Salli Richardson-Whitfield, Erica Cerra, Neil Grayston, Joe Morton and Niall Matter.
The arrival of a second sun over
Eureka
upstages the town's mayoral race and forces Carter (
Colin Ferguson
), Allison (
Salli Richardson-Whitfield
) and Zane (
Niall Matter
) to investigate the fiery threat.
Guest stars include Frances Fisher, Ever Carradine, Chris Gauthier, Vanya Asher, Dean Marshall and Margot Berner.

03:00 AM
Stargate Atlantis
Brain Storm
(season 5)
Stargate Atlantis cast includes Joe Flanigan, Rachel Luttrell, David Hewlett, Paul McGillion, David Nykl, Jason Momoa, Jewel Staite and Robert Picardo.
Doctors Keller and McKay (
Jewel Staite
,
David Hewlett
) go to Earth to witness a scientific demonstration conducted by McKay's rival, Malcolm Tunney (
Dave Foley
). Unfortunately, Tunney's device creates a life-threatening situation.
Bill Nye
and
Neil deGrasse Tyson
guest star.
Additional guest stars include Marshall Bell,
Stargate SG-1's
Gary Jones, Mike Coleman, Naomi Dayneswood and Shirley Ng.