Source: Syfy
schedulebot
[
NOTE: Syfy schedule subject to change(s)
]

SHARKATHON - SYFY: MOVIE MARATHON SCHEDULE SATURDAY, APRIL 27, 2013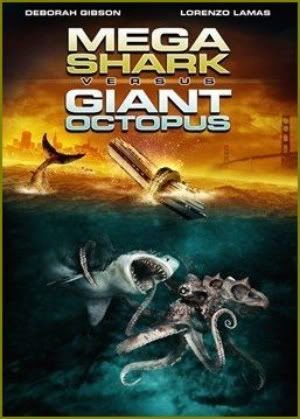 09:00 AM
Mega Shark Vs Giant Octopus
Two colossal prehistoric monsters terrorize the California coast while battling for supremacy of the sea in this salt-water creature feature starring
Lorenzo Lamas
and
Deborah Gibson
.
Cast includes Deborah Gibson, Lorenzo Lamas, Vic Chao, Jonathan Nation, Mark Hengst, Michael Teh and Chris Haley.
11:00 AM
Shark Zone
Great white sharks terrorize a beach community, and it's up to one man to stop them.
Cast includes Dean Cochran, Alan Austin, Brandi Sherwood, Velizar Binev, Luke Leavitt, Alexander Petrov, Franklin A. Vallette, Martin Dorcey, Jonas Talkington, Stefan Lysenko and Violeta Markovska.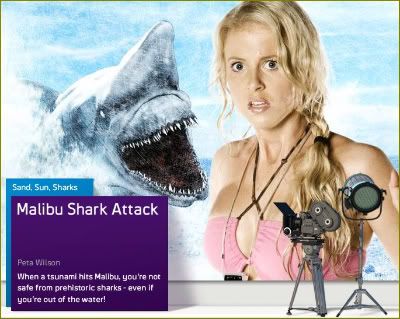 01:00 PM
Malibu Shark Attack
A tsunami brings goblin sharks to Malibu, CA, after a massive wave cuts lifeguards and construction workers off from dry land.
Cast includes Peta Wilson, Renee Bowen, Remi Broadway, Joel Amos Byrnes,
Alphas'
Warren Christie, Nicholas G. Cooper and Sonya Salomaa.
03:00 PM
Super Shark
A massive, primordial shark goes on a bloody killing spree after being set free during an offshore drilling mishap in this saltwater shocker starring
John Schneider
and
Jimmie "JJ" Walker
. As the tide runs red with blood, marine biologist Kat Carmichael (
Sarah Lieving
) finds her efforts to destroy the giant killing machine repeatedly foiled by shameless corporate shill Roger Wade (
Schneider
) and his scheming sidekick Stewart (
Jerry Lacy
). But when the beast begins using its flippers to walk on land, Kat recruits fearless Skipper Chuck (
Tim Abell
) and wisecracking DJ Dynomite Stevens (
Walker
) to blast it back into the ocean.
Cast includes John Schneider, Sarah Lieving, Tim Abell, Gerald Webb, Jimmie Walker, Jerry Lacy, Ted Monte, Catherine Annette, Trish Cook, Rick Cramer, John L. Curtis, J Ferguson, Michael Gaglio, Rebecca Grant, Blake Griffin, Carolyn Martin, Rya Meyers, Randy Mulkey, Jeff Murray and David Novak.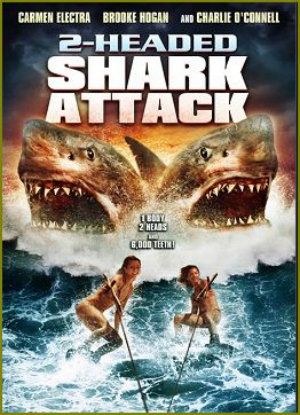 05:00 PM
2-headed Shark Attack
When a college educational ship is sunk by a mutated two-headed shark, the survivors escape to a deserted atoll. But when it starts flooding, the coeds are no longer safe from the double jaws of the monster.
Cast includes Carmen Electra, Charlie O'Connell, Brooke Hogan, Gerald Webb, Mercedes Young, David Gallegos, Geoff Ward, Shannan Stewart, Tihirah Taliaferro, Michael Dicarluccio, Lauren Vera, Marckenson Charles, Ashley Bissing, Corinne Nobili, Benjamin James, Chase Conner, Anna Jackson, Amber English, Collin Carmouze, Casey King Leslie, Morgan Thompson, Anthony E. Valentin and Christina Bach.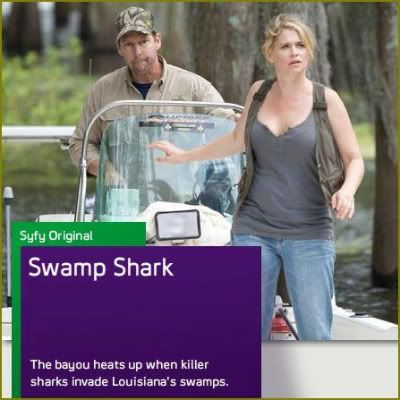 07:00 PM
Swamp Shark
An animal-smuggling deal gone bad puts a man-eating shark into a swampy backwoods river, where it stalks swimmers and boaters and imperils the town's annual Gator Fest.
Cast includes Kristy Swanson, Robert Davi, Richard Tanne, D.B. Sweeney, Jason Rogel, Jeff Chase, Sophie Sinise, Wade Boggs and Christopher Shane Berry.
09:00 PM
Swamp Volcano
A vulcanologist tries to prevent a catastrophic eruption that would destroy civilization after an oil-drilling operation strikes a magma flow in the Gulf of Mexico and inadvertently creates a volcano in Miami.
Cast includes Stacey Asaro, Owen Davis, Cleavant Derricks, Joseph Diaz, Miles Doleac, Brad Dourif, J.D. Evermore, Griff Furst, Lauren Graham, Emily D. Haley and Rachel Hunter.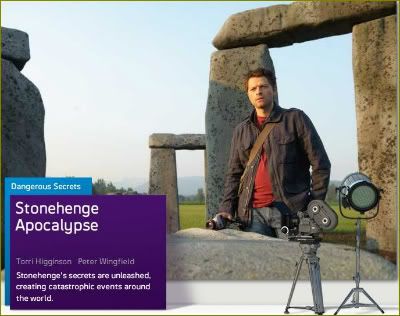 11:00 PM
Stonehenge Apocalypse
A radio talk-show host (
Misha Collins
) tries to warn the world about cataclysms spurred by the titular ancient monument.
Cast includes
Supernatural's
Misha Collins,
Stargate Atlantis'
Torri Higginson,
Sanctuary's
Peter Wingfield, David Lewis,
Fringe's
Michael Kopsa, Brent Stait,
CSI New York's
Hill Harper, David Lovgren, Adrian Holmes, Aaron Pearl and Colin Lawrence.
01:00 AM
Collision Earth
When a massive comet collides with the Sun, the explosion jettisons the planet Mercury from its orbit and sends it on a fatal collision course with Earth. With each passing day, Earth's unstable gravitational field creates catastrophic disasters that threatens to tear the planet apart. The only hope for survival is a hidden top-secret military weapon that has the power to destroy Mercury before it slams into Earth. It becomes a race against time to find the weapon the military has kept hidden for 20 years.
Cast includes
Fringe's
Kirk Acevedo,
Number's
Diane Farr, Chad Krowchuk, Jessica Parker Kennedy, Adam Greydon Reid, Andrew Airlie, David Lewis, Kevan Ohtsji, Catherine Lough and Juan Riedinger.
03:00 AM
Disaster Zone: Volcano In New York
A thriller that follows tunnel workers as they try to save New York City from an underground volcano.
Cast includes Costas Mandylor, Michael Ironside, Alexandra Paul, Eric Breker, Ron Selmour,
Sanctuary's
Pascale Hutton, Zak Santiago and Robert Moloney.