Source: Syfy
schedulebot
[
NOTE: Syfy schedule subject to change(s)
]

CATASTROPHE MOVIE MARATHON - SYFY: SCHEDULE FRIDAY, APRIL 26, 2013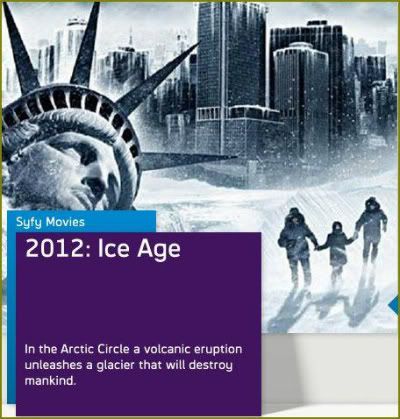 09:00 AM
2012: Ice Age
Patrick Labyorteaux
stars in this sci-fi disaster epic about a desperate American family fleeing for safety after a volcanic eruption in Iceland threatens to plunge the entire globe into a new ice age.
Cast includes
JAG's
Patrick Labyorteaux, Julie McCullough, Katie Wilson, Nick Afanasiev, Kyle Morris, Cedric Scott, Chacko Vadaketh, Ted Monte, David Light and Gerald Webb.
11:00 AM
Meltdown: Days Of Destruction
A cop (
Casper Van Dien
) tries to protect his family as the Earth shifts dangerously close to the sun, and a resulting heatwave causes looters to take to the streets.
Cast includes Casper Van Dien, Stefanie von Pfetten, Amanda Crew, Ryan McDonell and
Stargate
alums Vincent Gale, Venus Terzo, Greg Anderson and Bill Dow.
01:00 PM
Megafault
A massive earthquake threatens to split the world in half, prompting a seismologist and a miner to intervene.
Cast includes Brittany Murphy, Eriq La Salle, Bruce Davison,
Smallville's
Justin Hartley, Paul Logan and Jack P. Downing.
03:00 PM
Super Cyclone
When a super cyclone threatens the entire American eastern seaboard, a lone meteorologist (
Ming Na
) and a petroleum engineer (
Nicholas Turturro
) must battle the elements to stop the threat.
Cast includes
Blue Bloods'
Nicholas Turturro,
Stargate Universe's
Ming-Na, Andy Clemence, Darin Cooper, Jonathan Le Billon, Dylan Vox, Gerald Webb, Wayne Lopez, Steve Hanks, AnnaMaria Demara, Mitch Lerner, Jamie Burton-Oare, Carl Gilliard, Todd James Jackson, Tracy Winters, Mat Lageman and Gospel Jackson.
05:00 PM
V For Vendetta
Stylish allegorical thriller about a masked avenger known as
V
, who leads a revolution in a futuristic, totalitarian Britain.
Cast includes Natalie Portman, Hugo Weaving, Stephen Rea, Stephen Fry, John Hurt, Tim Pigott-Smith, Rupert Graves, Roger Allam, Ben Miles, Sinéad Cusack, Natasha Wightman, Eddie Marsan and Clive Ashborn.