Source:
MSN TV
[follow link for complete column]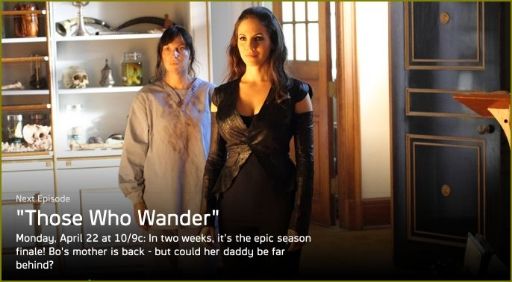 MSN TV: TONIGHT'S PICKS MONDAY, APRIL 22, 2013
...
Lost Girl
10:00 PM, SYFY
Bo (
Anna Silk
) takes on an army to save two people she loves, unaware that those she leaves behind may be in danger. Kenzi (
Ksenia Solo
) comes to a big realization about Hale (
K.C. Collins
). As Dyson's (
Kris Holden-Ried
) future grows uncertain, he's given a clue about the past -- specifically, Bo's -- in the new episode "
Those Who Wander
."
CLICK HERE TO VIEW THE EPISODE TRAILER FOR 'THOSE WHO WANDER'