Source: TV Guide [follow link for complete column]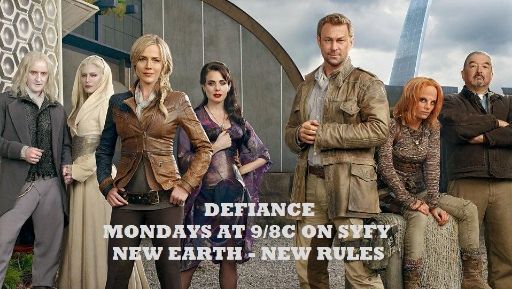 TV GUIDE: Ask Matt: Finales (Dallas, Southland, Suburgatory, Spartacus), Defiance, Americans
Apr 22, 2013
by
Matt Roush
Send questions and comments to
askmatt@tvguidemagazine.com
and follow on
Twitter
!
....
Question
: What is your prediction for
Syfy's
new
Defiance
? I was completely engaged for a majority of the two-hour premiere, and the ending's battle scene literally had me on the edge of my seat! I was a little disappointed when I realized the show was just about one town in a huge new world, but I hope that the characters will find a need to branch out of the town and give the viewer a broader scope of this new earth. I love the idea of learning more about the different alien races and how the conflicts between them and the humans play out. And what's with all the video game hype when they clearly stated that it would not affect the TV show? —
Shannon
Matt Roush
: My prediction is that
Defiance
will be around for a while. It opened strong, and some of that may be attributable to the video-game tie-in, which might have helped it break through the TV clutter (which on Mondays is considerable). The good news is that you can enjoy one without the other, although the interactive element of
Defiance
is a hook that calls attention to it, and these days, where's the harm in that? What I liked about the next few episodes, even more than in the pilot, is that
Defiance
the town serves as a microcosm to explore the various alien races and the conflicts within. It's possible the show will expand its scope, especially where outside threats are concerned, but I'd give it some time to get on its feet before asking it to reach for the stars (where
Syfy
hasn't gone in far too long)...
Defiance
airs Monday at 9/8C on Syfy.
CLICK HERE TO VIEW THE EPISODE TRAILER FOR 'DOWN IN THE GROUND WHERE THE DEAD MEN GO' AIRING APRIL 22, 2013.