Source:
Syfy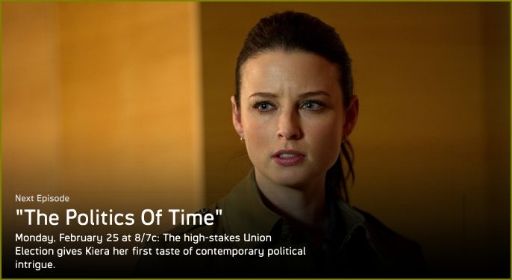 CONTINUUM - SYFY VIDEO: 'THE POLITICS OF TIME' EPISODE TRAILER - AIRS MONDAY, FEBRUARY 25, 2013 AT 8/7C
Evidence points to Carlos in the murder of a politician. Continuum Monday at 8/7c.
An investigative reporter is killed during a high-stakes election, and evidence points to Carlos (
Victor Webster
).
Guest stars include Adam Greydon Reid,
Arctic Air's
Pascale Hutton, Jenn Bird, Sarah Edmondson, Frank Cassini, Jim Thorburn,
Battlestar Galactica's
Tahmoh Penikett, John Reardon, Richard Harmon and Paula Elle.