Source: Cloo TV
schedulebot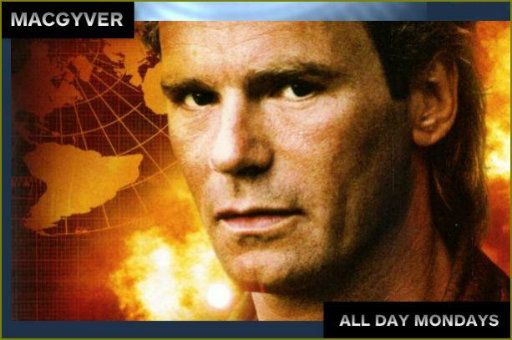 MACGYVER - CLOO TV: MARATHON SCHEDULE MONDAY, JANUARY 14, 2013
MacGyver cast includes Richard Dean Anderson (as Angus MacGyver) and Dana Elcar as Peter Thornton.
06:00 AM
RUSH TO JUDGEMENT
As a juror in a racially charged murder trial,
MacGyver
can't resist digging up more facts on his own, which courts the wrath of the judge.
Guest stars include Henry Beckman, Pat Bermel, Beau Billingslea, Jill Gamley, Tim Haldeman, Michael A. Jackson, Steven Keats, Terry King, Lillian Lehman, Betty McGuire, Jonathon Pallone, Rob Roy, David Symons, Deborah Van Valkenburgh and Bari K. Willerford.
07:00 AM
PASSAGES
* Excellent Episode! *
MacGyver
is injured trying to prevent the robbery of an artifact and undergoes an unearthly experience after he slips into a coma.
Guest stars include John Anderson, Frank Ferrucci, David Glyn-Jones, Shane Meier, Martin Milner, Sheila Moore, Tracey Olson and Anthony Stamboulieh.
08:00 AM
TOUGH BOYS
A group of young vigilantes is taking explosive measures to blow away the crack ring gripping the neighborhood.
Guest stars include Richard Chaves, Garvin Funches, Dale Wilson, Jason Scott, Richard Roundtree, Gerry Bean, Don Thompson, Danny Wattley and
Once Upon A Time's
Gabe Khouth.
09:00 AM
HUMANITY
MacGyver
is taken hostage when an elite corps still loyal to Romania's Ceausescu sabotages a plan to uncover his files.
Guest stars include Brooks Gardner, Larry D. Mann, Alan Scarfe, Andrew Kavadas, Serge Houde, Liduina Vanderspek, Maureen Sheridan, Jonathan Sedman, Jonathan Pedlow and George Josef.
10:00 AM
THE GUN
A gun used in an assassination 20 years ago and in a present-day cop killing is sought by
MacGyver
, who needs it to clear a friend.
Guest stars include Zachary Ansley, Peter Blackwood, Jay Brazeau, Alec Burden, Vincent Gale, Terry King, Campbell Lane, Troy Mallory, Dan Muldoon, Charles Payne, Anthony Ulc and Jerry Wasserman.
11:00 AM
THE VISITOR
Con artists posing as extraterrestrials promise to transport a desperate rural family to a trouble-free planet, for a price.
Guest stars include Ian Black, Kaj-Erik Eriksen, Christopher Gaze, Ryan Michael, Larry Musser, Suzie Payne, Ken Pogue and Beth Toussaint.
12:00 PM
SQUEEZE PLAY
MacGyver
goes to bat for a former baseball player's daughter (
Catherine Zak
) who's being blackmailed by a counterfeit-memorabilia ring.
Reggie Jackson
has a cameo.
Guest stars include Reggie Jackson, Brock Johnson, Kent McCord, Jeff McLeod, Della Reese, Tim Rossovich, William Samples, Malcolm Stewart, Whitney-John Stuart and Catherine Zak.
01:00 PM
RUSH TO JUDGEMENT
02:00 PM
PASSAGES
03:00 PM
TOUGH BOYS
04:00 PM
HUMANITY
05:00 PM
THE GUN
06:00 PM
TWENTY QUESTIONS
MacGyver
tries to get a young friend accused of murder to admit she has a drinking problem.
Guest stars include Patrie Allen, Linden Ashby,
The Big Bang Theory's
Mayim Bialik, Claire Brown, Cavan Cunningham, Jackson Davies, Allan Grant, Joe Lambie and Kimberly Neville.
07:00 PM
THE WALL
MacGyver
seeks to reunite an East German expatriate with his granddaughter (
Brigitta Stenberg
), who may be in league with exStasi agents who want the old man's gold.
Guest stars include Oliver Becker, Jackson Davies, Vince Deadrick Jr., Bruce Harwood, John Horn, Reiner Schöne, Milton Selzer and Brigitta Stenberg.
08:00 PM
LESSON IN EVIL
MacGyver's
nemesis (
W. Morgan Sheppard
) escapes after a sanity hearing and leaves a trail of clues intended for
MacGyver
.
Guest stars include Jackson Davies, Lynne Moody, Alvin Sanders, William Morgan Sheppard, Kim Zimmer and Garry Chalk.
09:00 PM
HARRY'S WILL
Crazy crooks and an ex-con (
Abe Vigoda
) are in pursuit of a treasure thought to be in a car willed to MacGyver by his grandfather. Cameos by
Rich Little
,
Lyle Alzado
and
Star Trek's
James Doohan
.
Guest stars include Lyle Alzado, John Anderson, Dick Butkus, James Doohan, Henry Gibson, Rich Little, Shane Meier, Marion Ross, Abe Vigoda, Jesse White, Wendy O. Williams and Henry Winkler.
10:00 PM
BITTER HARVEST
*
Excellent Episode!
*
MacGyver
picks up where a farm-worker organizer left off by investigating a grower's possible use of illegal pesticides.
Guest stars include Joey Aresco, Yvette Cruise, David Efron, Allan Lysell, James Medina, Bill Ontiverous, Anthony Pena and Richard C. Sarafian.
11:00 PM
THE VISITOR
12:00 AM
SQUEEZE PLAY
01:00 AM
TWENTY QUESTIONS
02:00 AM
THE WALL
03:00 AM
LESSON IN EVIL
04:00 AM
HARRY'S WILL
05:00 AM
BITTER HARVEST