Source:
Playboy
[follow link to view the videos and/or read the complete interview]

BEING HUMAN - PLAYBOY: KRISTEN HAGER VIDEO INTERVIEW
[
NOTE
: Playboy has two videos at the link: the first video is the interview with
Kristen Hager
; the second video is a
Being Human
on-set behind-the-scenes tour with
Kristen Hager
and (briefly)
Meaghan Rath
.]
January 9, 2013
Syfy's
Being Human
follows what sounds like the beginning of an anecdote: a vampire, a ghost and a werewolf all share an apartment in Boston together. But the supernatural comedy-drama (a remake of the BBC show of the same name) has proven to be a huge hit with fans and critics alike.
Kristen Hager
, who plays Nora — a nurse accidentally scratched by her werewolf boyfriend Josh (played by
Sam Huntington
), is the latest Season 3 regular addition to the cast and our latest woman to watch. We went on set with the gorgeous and charismatic
Hager
to chat about being scratched by a werewolf, shooting sex scenes and her most challenging role to date...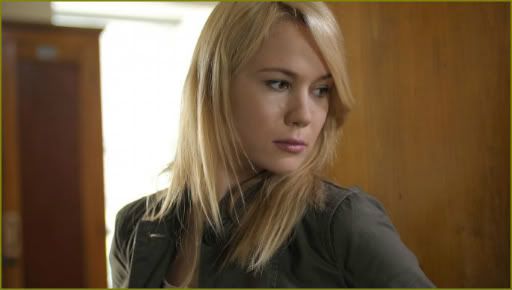 ...
Playboy.com: What's going to happen in season three?
Kristen Hager
: "I found that season two was really dark, and I think that there's some levity in this season, and excitement, and a great connection between the roommates that people really related to in season one; that's back."
Playboy.com: What's the most fun part of playing a werewolf?
Kristen Hager
: "It's really freeing, you know? It's great to just get to play something that's really ugly. As women, we always feel like, "Ugh, hair and makeup and you have to look perfect," especially in television, and it's really fun to just let go and be crazy..."
Being Human
season three premieres Monday, January 14, 2013 at 9/8C on Syfy.
CLICK HERE FOR A VIDEO SNEAK PEEK OF THE SEASON PREMIERE 'IT'S A SHAME ABOUT RAY.'