Source:
Collider
[follow link for complete interview]
COLLIDER: Timothy Olyphant Talks JUSTIFIED Season 4
by
Christina Radish
January 8th, 2013
Based on the works of crime novelist
Elmore Leonard
and developed for television by showrunner
Graham Yost
, the FX drama series
Justified
is back for Season 4. This time around, U.S. Marshal Raylan Givens (
Timothy Olyphant
) will start to unravel the mystery of a more than 30-year-old cold case that connects back to his criminal father's (
Raymond J. Barry
) bad dealings. The show also stars
Walton Goggins
,
Nick Searcy
,
Jacob Pitts
,
Erica Tazel
and
Joelle Carter
.
During this recent interview to discuss what to expect from the show this season, actor/producer
Timothy Olyphant
talked about how involved he is in the development of each season, how much it means to him that they have
Elmore Leonard's
approval, that Raylan is bound to cross paths with Boyd Crowder again, how each of these characters has their own moral code, what a joy it is to be able to deliver such great dialogue, what keeps Raylan from becoming as crooked as all the criminals in Harlan, what viewers can expect from the addition of
Patton Oswalt
this season, balancing the tone of the subject matter, and whether he'd ever consider directing an episode of the series...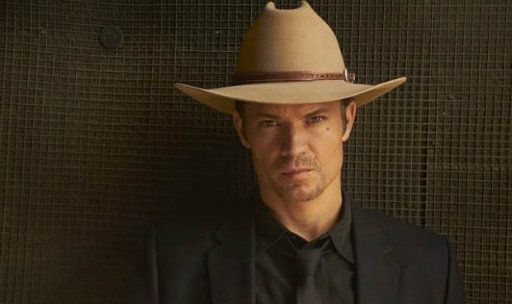 ...
Q: What keeps Raylan from becoming crooked, in this town and surrounded by all of these criminals?
Timothy Olyphant
: "
Well, that's a good question. The answer is that I don't know, but so far, so good, you know? He seems to be walking right up to the edge now. It's fun, watching how close he can get to that without crossing. There's a fun game that happens in the writers' room now, where others try to pen down who he is and what his intentions are, or what would've happened, had it not gone exactly the way it did. Raylan refuses to get pinned like that...
"
Justified
airs Tuesday at 10/9C on FX.
CLICK HERE TO VIEW THE EPISODE TRAILER FOR JUSTIFIED'S 'WHERE'S WALDO?' AIRING JANUARY 15, 2013.