Source:
Los Angeles Times
[follow link for complete interview]

LOS ANGELES TIMES: Lana Parrilla: An evil queen and a Brooklyn hippie
By
Jevon Phillips
January 3, 2013
Lana Parrilla
, who plays Regina Mills/the Evil Queen on ABC's "
Once Upon a Time
," doesn't look very menacing as she reaches over to help with the French press coffee carafe on a recent trip to a Hollywood cafe. There's definitely a softer side to the sometimes vengeful monarch, and to the Puerto Rican/Sicilian actress who inhabits the fairy tale role.
"
I grew up in Brooklyn and was tough — kind of loaded with attitude — and then I came here. I'm sure people found me kind of intimidating,
"
Parrilla
says. "
I didn't fit in on any level when I moved from Brooklyn to Burbank — on any level. And then I met a bunch of hippies and I became a little hippie myself. A Brooklyn hippie.
"
It's that dichotomy that has seemed to fuel not only
Parrilla
but also the show itself in its second season. As "
Once Upon a Time
" returns to ABC on Sunday, the characters now know who they are (fairy tale denizens transplanted to a Maine town called Storybrooke years ago by a curse) and have to cope with this knowledge and the return of magic to what was once a magic-less world.
Parrilla's
Mills, who also is the city's mayor, fights to gain the acceptance/love of her adopted son Henry while resisting the urge to use magic — and sticking it to Snow White's daughter Emma Swan any time she can.
Mills was one of the few characters who actually knew who she was as a fairy tale being, and she, as well as the show's producers, kept the secret safe for most of the first season...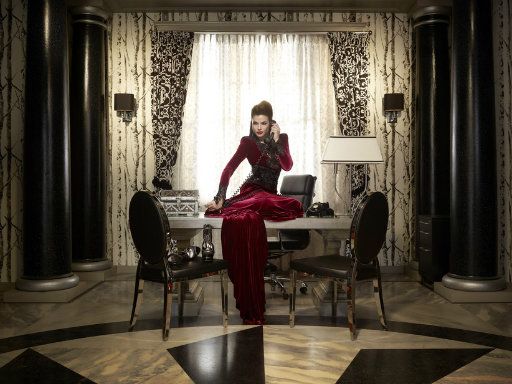 ... "
I wanted to confuse the audience, so I would do different takes. One where she had the knowledge that she was the Evil Queen, and some where she didn't at all. I would let producers and editors tell which story they wanted to tell,
"
Parrilla
says. "
In the beginning it was a creative choice to keep them really different. Then down the road, it's been a blending of the two characters. Now the contrast happens more in the writing, where, in the second season, she's on this road to redemption, but in fairy tale land, it's back to the moments leading up to the curse, so she's the craziest she's ever been. I love the contrast...
"
Once Upon A Time
airs Sunday at 8/7C on ABC.
CLICK HERE TO VIEW THE EPISODE TRAILER FOR 'THE OUTCAST' AIRING SUNDAY, JANUARY 13, 2013.