Source:
Huffington Post
[follow link for complete interview]

HUFFINGTON POST: 'Lost Girl' Anna Silk On Season 3's 'Bad' Bo And Guest Star Linda Hamilton
01/04/2013
by
Annette Bourdeau
Get ready to see "
Lost Girl
" Bo as you've never seen her before. As the end of season 2 hinted at, the sexy succubus (
Anna Silk
) is going to be channeling much more of her dark side throughout the new season. That means everything will be shaken up, including her core relationships with Kenzi, Lauren and Dyson.
The show has attracted a legion of loyal followers since it debuted in 2010, and it's easy to see why. It really does have something for everyone: a little fantasy, a lot of action and plenty of raw, true-to-life relationships. In fact, Bo's complex love affair with Lauren (
Zoie Palmer
) has earned accolades for its realistic depiction of a same-sex relationship.
HuffPost TV Canada caught up with
Silk
to find out everything we could about season 3. While
Silk
was understandably tight-lipped (nobody likes spoilers, after all), we did manage to get her to spill about what it's like playing 'bad' Bo, touching moments she's had with fans and the show's most perfect guest star ever,
Linda Hamilton
...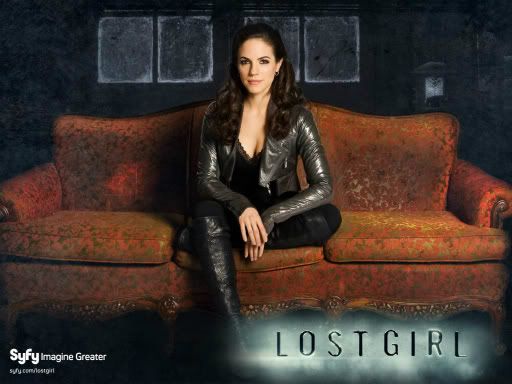 ...
Q: So what's going on with Dyson [Kris Holden-Ried] this season?
Anna Silk
: "
Dyson's definitely more present in Bo's life. From the very moment Bo met Dyson, there was this element of deep trust she had, but also this really strong element of danger that he has. Kris as Dyson is pretty dangerous. Kris is pretty goofy in real life, he's not so dangerous! [Laughs] But he brings this weight and danger to Dyson. That's always there, and that's the thing that still appeals to Bo on a lot of different levels...
"
Lost Girl
season three premieres in the US on Monday, January 14, 2013 at 10/9C on Syfy. In Canada,
Lost Girl
premiered on Sunday, January 6, 2013 on Showcase.
Lost Girl season three cast includes Anna Silk, Kris Holden-Ried, Ksenia Solo, Zoie Palmer, Rick Howland, K.C. Collins and new cast member, Rachel Skarsten, in a recurring role as "Tamsin."
CLICK HERE TO VIEW A VIDEO SNEAK PEEK OF LOST GIRL'S 'CAGED FAE' SEASON THREE PREMIERE EPISODE.