Source: Syfy
schedulebot
[
NOTE: Syfy schedule subject to change(s)
]
SCIFI MOVIE MARATHON - SYFY: SCHEDULE TUESDAY, DECEMBER 4, 2012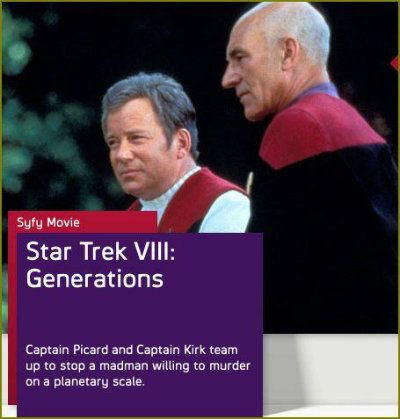 05:30 PM
Star Trek VII: Generations
Capt. Kirk (
William Shatner
) and Capt. Picard (
Patrick Stewart
) team up to thwart mad Dr. Soran's (
Malcolm McDowell
) quest for the Nexus of joy.
Guest cast includes Malcolm McDowell, James Doohan, Walter Koenig, William Shatner, Alan Ruck, Tim Russ, Barbara March and Gwynyth Walsh.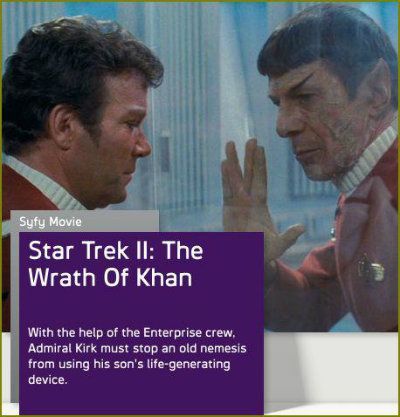 08:00 PM
Star Trek II: The Wrath Of Khan
Kirk (
William Shatner
), Spock (
Leonard Nimoy
) and the Enterprise crew battle an old foe who blames Kirk for the death of his wife.
Guest cast includes Bibi Besch, Merritt Butrick, Paul Winfield, Kirstie Alley, Ricardo Montalban and Judson Scott.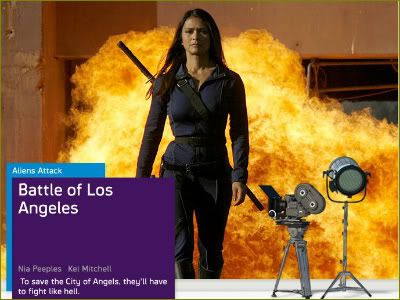 10:30 PM
Battle Of Los Angeles
Alien spacecraft attack Los Angeles in the first wave of an invasion, and humanity's survival depends upon two soldiers who must breach the mother ship and destroy it from within.
Cast includes Nia Peeples, Kel Mitchell, Dylan Vox, Theresa June Tao, Gerald Webb, Edward DeRuiter, Darin Cooper, Robert Pike Daniel and Tim Abell.
12:30 AM
War Of The Worlds 2: The Next Wave
Hostile aliens return to Earth two years after their first invasion.
Cast includes C. Thomas Howell, Christopher Reid, Kim Little, Jonathan Levit, Danna Brady and Fred Griffith.