Source: Syfy
schedulebot
[
NOTE: Syfy schedule subject to change(s)
]
ADVENTURE MOVIE MARATHON - SYFY: SCHEDULE SUNDAY, DECEMBER 9, 2012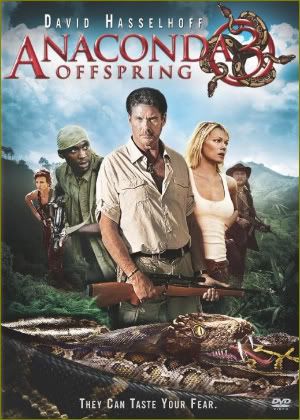 09:30 AM
Anaconda 3
A hunt for two massive snakes is launched following their escape from a research facility where their longevity was studied.
Cast includes David Hasselhoff, Crystal Allen, Ryan McCluskey, Patrick Regis, Anthony Green and John Rhys-Davies.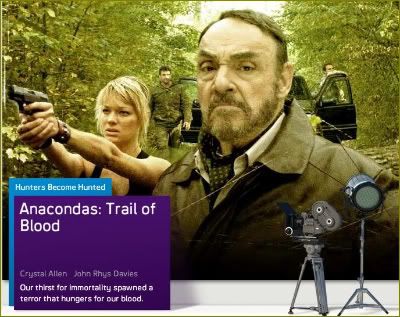 11:30 AM
Anacondas: Trail Of Blood
A genetically created Anaconda, cut in half, regenerates itself into two aggressive giant snakes, due to the Blood Orchid.
Starring Crystal Allen, Linden Ashby, Danny Midwinter, Ana Ularu, Claudiu Bleont, Anca-Ioana Androne and John Rhys-Davies.
01:30 PM
Anaconda
Thriller about a documentary team that heads for the Brazilian jungle to search for a remote native tribe, but ends up fleeing from a giant snake
Cast includes Jennifer Lopez, Ice Cube, Jon Voight, Eric Stoltz, Jonathan Hyde, Owen Wilson, Kari Wuhrer, Vincent Castellanos and Danny Trejo.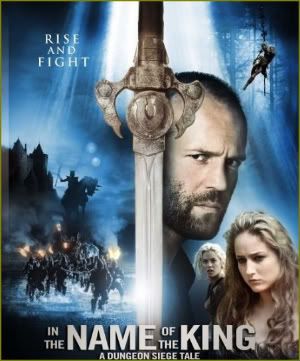 03:30 PM
In The Name Of The King: A Dungeon Siege Tale
Inconsistent accents, anachronistic performances and low-rent special effects abound in this medieval fantasy, which pits action star Jason Statham against armor-clad monster warriors, a wicked wizard and scantily-clad, man-hating wood sprites.
Cast includes Jason Statham, Leelee Sobieski, John Rhys-Davies, Ron Perlman, Claire Forlani, Kristanna Loken, Matthew Lillard, Mike Dopud, Ray Liotta and Burt Reynolds.
06:00 PM
Indiana Jones And The Last Crusade
Fedora and whip at the ready, Indiana Jones (
Harrison Ford
) sets off on his third cinematic outing accompanied by none other than his father, Henry (
Sean Connery
), to explore the cradle of civilization on a perilous hunt for the Holy Grail. The Nazis are also after the powerful relic, but no one is what they seem in this rousing quest for everlasting life.
Cast includes Harrison Ford, Sean Connery, Denholm Elliott, Alison Doody, John Rhys-Davies, Julian Glover, River Phoenix, Michael Byrne, Kevork Malikyan, Robert Eddison, Richard Young and Alexei Sayle.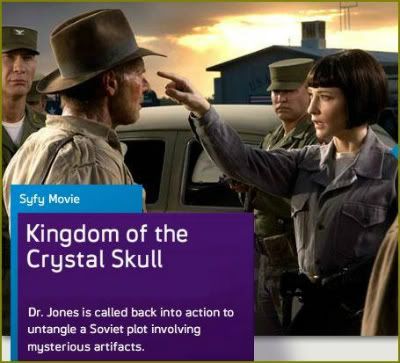 09:00 PM
Indiana Jones And The Kingdom Of The Crystal Skull
Indiana Jones (
Harrison Ford
) gets a cold war-era update in this fan-friendly pastiche of 1950s preoccupations and paranoia. His mission: rescuing an old friend who has vanished after discovering a strange artifact that could hold the key to world domination. Old friends, including hard-drinking ex-love Marion Ravenwood
(Karen Allen
), new enemies like Russian she-wolf Irina Spalko (
Cate Blanchett
) and spectacular action sequences abound.
Cast includes Harrison Ford, Cate Blanchett, Karen Allen, Shia LaBeouf, Ray Winstone, John Hurt, Jim Broadbent and Alan Dale.
12:00 AM
In The Name Of The King: A Dungeon Siege Tale
02:30 AM
Prey
An American family on holiday in Africa becomes lost in a game reserve and stalked by lions.
Cast includes
Blue Bloods'
Bridget Moynahan, Peter Weller, Carly Schroeder, Jamie Bartlett, Conner Dowds and Marius Roberts.