Source: Syfy
schedulebot
[
NOTE: Syfy schedule subject to change(s)
]
DISASTER MOVIE MARATHON - SYFY: SCHEDULE SATURDAY, DECEMBER 8, 2012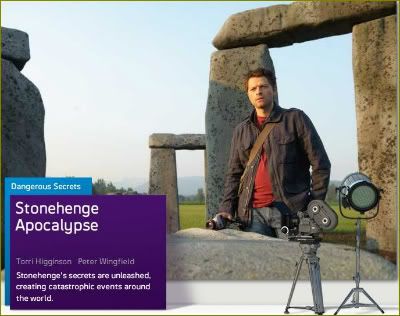 09:00 AM
Stonehenge Apocalypse
A radio talk-show host (
Misha Collins
) tries to warn the world about cataclysms spurred by the titular ancient monument.
Cast includes
Supernatural's
Misha Collins,
Stargate Atlantis'
Torri Higginson,
Sanctuary's
Peter Wingfield, David Lewis, Michael Kopsa, Brent Stait,
CSI New York's
Hill Harper, David Lovgren, Adrian Holmes, Aaron Pearl and Colin Lawrence.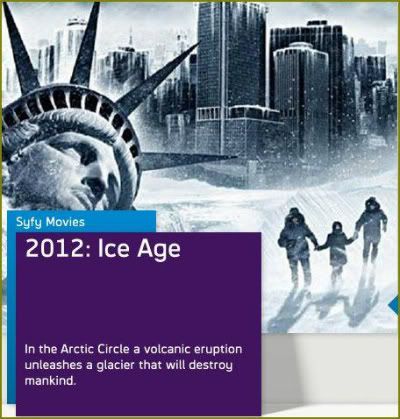 11:00 AM
2012: Ice Age
Patrick Labyorteaux
stars in this sci-fi disaster epic about a desperate American family fleeing for safety after a volcanic eruption in Iceland threatens to plunge the entire globe into a new ice age.
Cast includes
JAG's
Patrick Labyorteaux, Julie McCullough, Katie Wilson, Nick Afanasiev, Kyle Morris, Cedric Scott, Chacko Vadaketh, Ted Monte, David Light and Gerald Webb.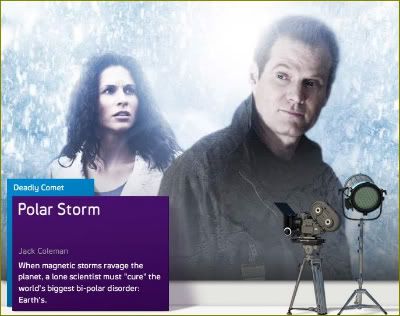 01:00 PM
Polar Storm
Magnetic storms wreak havoc after a meteor nearly hits Earth.
Cast includes Jack Coleman, Holly Elissa Lamaro, Tyler Johnston, Terry David Mulligan,
Continuum's
Roger R. Cross and David Lewis.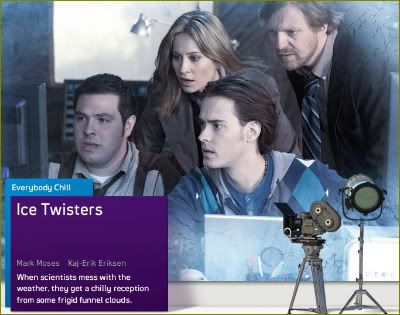 03:00 PM
Ice Twisters
Scientists seek the assistance of a science fiction novelist when a top-secret government program devoted to researching experimental weather manipulation techniques results in the creation of deadly tornadoes made of ice.
Cast includes Mark Moses, Camille Sullivan, Kaj-Erik Eriksen, Alex Zahara, Ryan Kennedy, Robert Moloney, Dion Johnstone and Ingrid Torrance.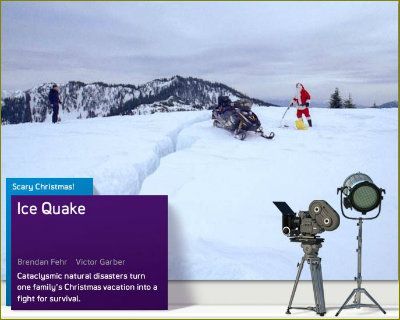 05:00 PM
Ice Quake
A family tries to counter a threat to the planet on Christmas Eve as melting Alaskan permafrost creates underground rivers of liquid methane that trigger violent earthquakes.
Cast includes Brendan Fehr, Holly Elissa Lamaro, Jodelle Ferland, Ryan Grantham, Rob LaBelle, Nicholas Carella, Victor Garber, Sharon Taylor, Kurt Max Runte and Aaron Pearl.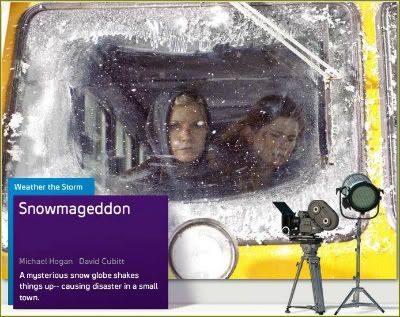 07:00 PM
Snowmageddon
A tale about a mystical snow globe that can cause bad things in the real world when shaken.
Cast includes
Medium's
David Cubitt, Laura Harris,
Battlestar Galatica's
Michael Hogan,
Caprica's
Magda Apanowicz, Jeffrey Ballard, Leanne Lapp, Dylan Matzke, Carolyn Adair, Teach Grant and Amitai Marmorstein.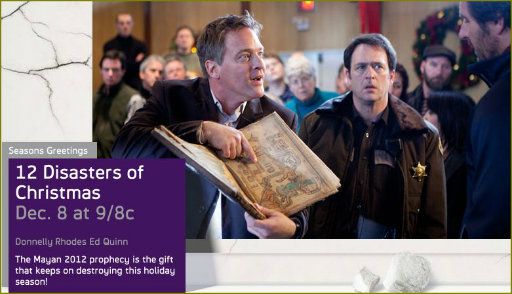 09:00 PM
'12 Disasters Of Christmas - Syfy Premiere!
A father (
Ed Quinn
, "
Eureka
," "
Starship Troopers 2
") learns that his daughter (
Magda Aponowicz
, "
Kyle XY
," "
Caprica
") is really the "Chosen One" who, alone, can stop further catastrophe – if he can stave off the lunatic townspeople blaming her for the community's destruction. The movie also stars "
Battlestar Galactica's
"
Donnelly Rhodes
.
Cast includes
Eureka's
Ed Quinn, Magda Apanowicz, Holly Elissa, Ryan Grantham, Scarlett Bruns, Donnelly Rhodes, Brenna O'Brien, Andrew Airlie, Roark Critchlow, Kaj-Erik Eriksen and Greg Kean.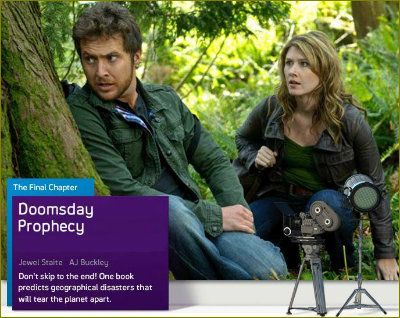 11:00 PM
Doomsday Prophecy
An archaeologist and a book editor try to save the world from a looming geological nightmare.
Cast includes
Stargate Atlantis'
Jewel Staite, A.J. Buckley, Gordon Tootoosis, Fernando Lara, Matthew Kevin Anderson, Rick Ravanello, David Richmond-Peck, Bruce Ramsay, Hiro Kanagawa, Jerry Wasserman, Phillip Mitchell, Roseanne Supernault and
Once Upon A Time's
Alan Dale.
01:00 AM
'12 Disasters Of Christmas
03:00 AM
Ice Quake