Source: Syfy
schedulebot
[
NOTE: Syfy schedule subject to change(s)
] and
NBCUMV Press Release
[follow link for complete press release]
END OF THE WORLD MOVIE MARATHON - SYFY: SCHEDULE THURSDAY, DECEMBER 20, 2012
SYFY CELEBRATES THE HOLIDAYS WITH END OF THE WORLD MOVIE MARATHON
Syfy will close out 2012 with a holiday programming festival featuring an End of the World movie marathon – in case the Mayan apocalyptic prediction proves false. The holiday festivities kick off on Thursday, December 20 at 8PM with the End of the World festival, concluding Friday, December 21 at 3AM, highlighted by the Thursday night specials
Countdown to Doomsday
(12AM) and
2012: Startling New Secrets
(2AM).
08:00 PM
'12 Disasters Of Christmas
A father (
Ed Quinn
, "
Eureka
," "
Starship Troopers 2
") learns that his daughter (
Magda Aponowicz
, "
Kyle XY
," "
Caprica
") is really the "Chosen One" who, alone, can stop further catastrophe – if he can stave off the lunatic townspeople blaming her for the community's destruction. The movie also stars "
Battlestar Galactica's
"
Donnelly Rhodes
.
Cast includes Ed Quinn, Magda Apanowicz, Holly Elissa, Ryan Grantham, Scarlett Bruns, Donnelly Rhodes, Brenna O'Brien, Andrew Airlie, Roark Critchlow, Kaj-Erik Eriksen and Greg Kean.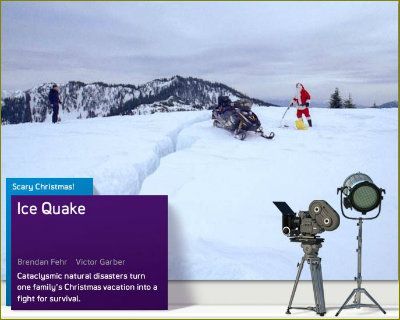 10:00 PM
Ice Quake
A family tries to counter a threat to the planet on Christmas Eve as melting Alaskan permafrost creates underground rivers of liquid methane that trigger violent earthquakes.
Cast includes Brendan Fehr, Holly Elissa Lamaro, Jodelle Ferland, Ryan Grantham, Rob LaBelle, Nicholas Carella, Victor Garber, Sharon Taylor, Kurt Max Runte and Aaron Pearl.
12:00 AM
Countdown To Doomsday
Speculations concerning Earth's next mass extinction are discussed during this look at 10 possible scenarios that could impact the world. Host:
Matt Lauer
.
02:00 AM
2012: Startling New Secrets
Examining how people have reacted to apocalyptic visions spurred by the Mayan calendar and its end date, Dec. 21, 2012. Included: an ancient Egyptian hall of records and sites in Central America are visited. Host:
Lester Holt
.
04:00 AM
2012: Supernova
An astrophysicist assembles a team to find a way to shield Earth from a devastating burst of radiation released by an unstable star in a nearby galaxy.
Cast includes Brian Krause, Heather McComb, Najarra Townsend, Allura Lee, Alan Poe and Stephen Schneider.