Source: Syfy
schedulebot
[
NOTE: Syfy schedule subject to change(s)
]
STARGATE ATLANTIS - SYFY: ENCORE 'HIDE AND SEEK' - AIRS TUESDAY, JANUARY 15, 2013 AT 2AM
Stargate Atlantis season one cast includes Joe Flanigan, David Hewlett, Rainbow Sun Francks, Rachell Luttrell, Torri Higginson, Paul McGillion and David Nykl.
2:00 AM
Hide and Seek
McKay (
David Hewlett
) is trapped in a force field after altering his genes to access the Ancients' technology, and the city is rocked by systems malfunctions after a child unwittingly releases an eerie black cloud.
Guest stars include Craig Veroni,
Sanctuary's
Christopher Heyerdahl, Reece Thompson, Casey Dubois, Boyan Vukelic and Meghan Black.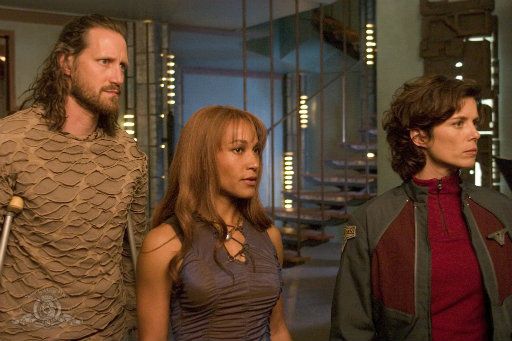 Christopher Heyerdahl, Rachel Luttrell and Torri Higginson - photo courtesy of MGM Stargate
Additional episodes of
Stargate Atlantis
are also (currently) on the Syfy schedulebot for February 2013!