Source: Syfy
schedulebot
[
NOTE: Syfy schedule subject to change(s)
]
HORROR MOVIE MARATHON - SYFY: SCHEDULE SUNDAY, SEPTEMBER 16, 2012
10:30 AM
White Noise
After his wife dies, an architect (
Michael Keaton
) becomes obsessed with contacting her spirit through the use of electronic equipment.
Cast includes Michael Keaton, Chandra West, Deborah Kara Unger, Ian McNeice, Sarah Strange, Nicholas Elia, Mike Dopud, Keegan Connor Tracy, Aaron Douglas and Mitchell Kosterman.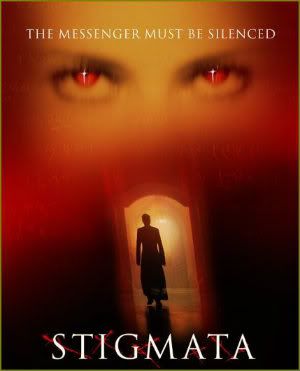 12:30 PM
Stigmata
A Vatican priest (
Gabriel Byrne
) is sent to Pittsburgh to investigate a not-so-religious hairstylist (
Patricia Arquette
) who exhibits signs of the stigmata, marks resembling the wounds that were inflicted on Jesus at his Crucifixion.
Cast includes Patricia Arquette, Gabriel Byrne, Jonathan Pryce, Nia Long, Thomas Kopache, Rade Serbedzija, Enrico Colantoni, Dick Latessa, Portia de Rossi and Patrick Muldoon.
02:30 PM
Wrong Turn 3: Left For Dead
Three-Finger (
Borislav Illiev
) and his clan of deformed cannibals are hunting campers when a prison transport bus crashes nearby, pitting the murderous mutants against a group of hardened killers.
Guest includes Tom Frederic, Janet Montgomery, Gil Kolirin, Christian Contreras, Jake Curran, Tom McKay, Charles Venn, Tamer Hassan and Jack Gordon.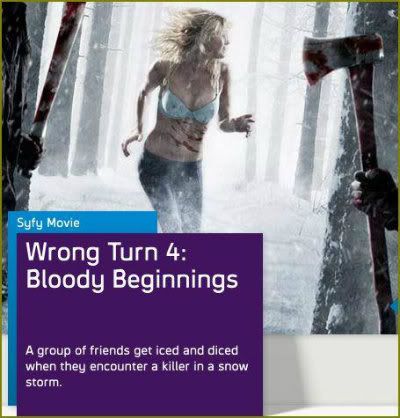 04:30 PM
Wrong Turn 4: Bloody Beginnings
Tenika Davis
stars in this horror prequel about a group of college students who stumble upon an abandoned sanatorium and are hunted by the facility's former patients.
Cast includes Sean Skene, Blane Cypurda, Dan Skene, Tristan Carlucci, Scott Johnson, Bryan Verot, Jennifer Pudavick, Tenika Davis, Kaitlyn Wong, Terra Vnesa, Victor Zinck Jr., Dean Armstrong, Ali Tataryn, Samantha Kendrick, Arne MacPherson and Kristen Harris.
06:30 PM
Predator 2
This sequel to the popular 1987 film starring
Arnold Schwarzenegger
takes place in 1997 with the setting changed from the jungles of South America to the urban jungles of Los Angeles. The ozone layer has been further depleted, the smog is worse than ever, and LA is in the midst of its worst heat wave in history. As if environmental problems weren't enough, drug lords have taken over the streets, turning the city into a war zone.
Cast includes Danny Glover, Kevin Peter Hall, Gary Busey, Rubén Blades, Maria Conchita Alonso, Bill Paxton, Robert Davi,
Chuck's
Adam Baldwin, Kent McCord, Morton Downey Jr., Calvin Lockhart, Elpidia Carrillo and Julian Reyes.
09:00 PM
Fast & Furious
Brian O'Conner (
Paul Walker
), now working for the FBI in LA, teams up with Dominic Toretto (
Vin Diesel
) to bring down a heroin importer by infiltrating his operation.
Cast includes Vin Diesel, Paul Walker, Jordana Brewster, Michelle Rodriguez, John Ortiz, Laz Alonso, Gal Gadot, Jack Conley, Shea Whigham and Liza Lapira.
11:00 PM
Planet Terror
A go-go dancer and her ex lead a ragtag group fighting for survival after a bio-weapon mishap creates an army of zombies.
Robert Rodriguez
wrote and directed this gory homage to exploitation flicks.
Cast includes Rose McGowan, Freddy Rodríguez, Josh Brolin, Marley Shelton, Jeff Fahey, Michael Biehn, Bruce Willis, Naveen Andrews and Danny Trejo.
01:00 AM
Wrong Turn 3: Left For Dead
03:00 AM
Wrong Turn 4: Bloody Beginnings