Source: CLOO TV
schedulebot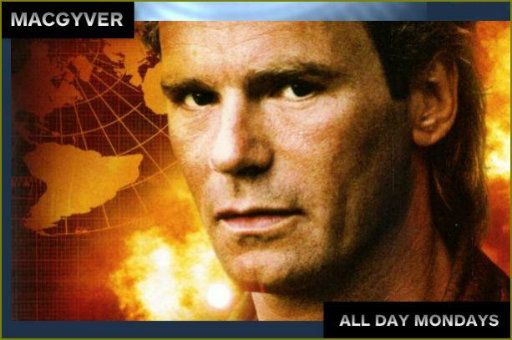 MACGYVER - CLOO TV: MARATHON SCHEDULE MONDAY, SEPTEMBER 10, 2012.
MacGyver cast includes Richard Dean Anderson as MacGyver and Dana Elcar as Peter Thornton.
06:00 AM
Mask of the Wolf
Jack Dalton (
Bruce McGill
) talks MacGyver into accompanying a Native American on a search for a legendary wolf mask.
Guest stars include Bruce McGill, Gary Lockwood, Floyd 'Red Crow' Westerman, Gordon Tootoosis, Marianne Jones, Chief Khotlacha and Calvin Sparrow.
07:00 AM
Rock the Cradle
Jack Dalton (
Bruce McGill
) finds a baby tagged "Jack Jr." strapped in a plane's cockpit, and a fortune in counterfeit bills in the bassinet.
Guest stars include Bruce McGill, Mitzi Kapture, Don Thompson, Garwin Sanford, Maria West, Peter Yunker, Susan Chapple, James Stevens and David Berner.
08:00 AM
The Endangered
MacGyver visits an ex-girlfriend, a ranger at a wildlife reserve, only to have his vacation turned into a bloody confrontation by poachers.
Guest stars include Moira Walley-Beckett, John Dennis Johnston,
Stargate SG-1's
Don S. Davis, Robin Mossley, Stephen E. Miller, Steve Blalock, Vince Deadrick Jr., Don MacKay, Sonia Norris and Vince Germann.
09:00 AM
Murderers' Sky
The takeover of a mogul's company involves a ninja, and it's up to MacGyver and the mogul's grandson to halt the bloodshed.
Guest stars include Roderick Cook, Soon-Tek Oh, Tia Carrere, Keye Luke, Ernie Reyes Jr., Al Leong, Terry Barclay and Pat Bermel.
10:00 AM
The Secret of Parker House
MacGyver acts as a ghostbuster when his friend (
Teri Hatcher
) inherits a spooky house from her insane aunt.
Guest stars include Teri Hatcher, Gisele MacKenzie, Ray Young and Arlen Dean Snyder.
11:00 AM
Blood Brothers
MacGyver tries to stop a friend's son from using a gun to defend himself against drug-dealing hoodlums.
Guest stars include Dirk Blocker, Bernie Coulson, Ramón Franco, Michael McNeilly, Jason Priestley, Adrien Dorval, Chris Schultz-Lorentzen, Fred Diehl and Michael Benyaer.
12:00 PM
The Outsiders
MacGyver intervenes in a land dispute between Amish and a construction company.
Guest stars include Kaj-Erik Eriksen, Gustaf Kristjanson, Allan Lysell, Ruth de Sosa, Vicki Wauchope, Garry Davey, Rob Morton, Deryl Hayes and Dan Zale.
01:00 PM
On a Wing and a Prayer
Thornton and a nun (
Susan Walden
) haven't a prayer after Central American rebels take them hostage.
Guest stars include Bruce McGill, Jenny Gago, Garwin Sanford, Susan Walden and Pedro Salvín.
02:00 PM
Collision Course
MacGyver is chosen to test a car engine designed by the Foundation, but a rival car owner (
G. Gordon Liddy
) has some dirty tricks up his sleeve.
Guest stars include Patrick Wayne, Kai Wulff, Katey Wright, G. Gordon Liddy, Don Saunders, Jerry Wasserman, Peter Williams, Gary Hetherington and Sheelah Megill.
03:00 PM
Mask of the Wolf
04:00 PM
Rock the Cradle
05:00 PM
The Endangered
06:00 PM
Murderers' Sky
07:00 PM
The Secret of Parker House
08:00 PM
The Survivors
MacGyver and Thornton discover the wreckage of a DEA plane, which MacGyver determines was shot down by drug smugglers.
Guest stars include Gerry Bean, Dale Wilson and Donna Cox.
09:00 PM
Deadly Dreams
MacGyver joins a police task force pursuing a psychopath, a man MacGyver suspects is a pawn in a larger scheme.
Guest stars include Kim Zimmer, William Morgan Sheppard, Garry Chalk, Brenda Crichlow, Todd Jeffries, Jeff Irvine, Alvin Sanders, Stephen Dimopoulos, Sean Hoy, Gordon White and William S. Taylor.
10:00 PM
Ma Dalton
Jack Dalton and MacGyver begin a search for Dalton's mother (
Constance Towers
) and learn that she's a fugitive.
Guest stars include Bruce McGill, Leslie Carlson, Ed Nelson, Constance Towers, Richard Lawson, Dwight McFee, Freda Perry, Russell Roberts, Andrew Kavadas, Denalda Williams and Monica Marko.
11:00 PM
Blood Brothers
12:00 AM
The Outsiders
01:00 AM
On a Wing and a Prayer
02:00 AM
Collision Course
03:00 AM
The Survivors
04:00 AM
Deadly Dreams
05:00 AM
Ma Dalton