Source: Syfy
schedulebot
[
NOTE: Syfy schedule subject to change(s)
]
SCIFI MOVIE MARATHON - SYFY: SCHEDULE MONDAY, JUNE 4, 2012
08:00 AM
AVH: Alien Vs. Hunter
A hunter from space tracks a deadly alien creature on Earth.
Cast includes William Katt, Dedee Pfeiffer, Wittly Jourdan, Randy Mulkey, Jennifer Couch, Jason S. Gray, John Murphy Jr. and Kevin Kazakoff.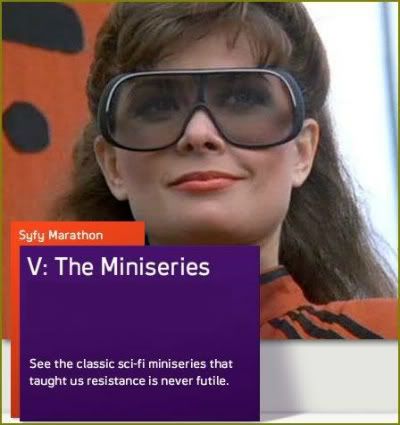 The 1983
V
original miniseries cast included Jane Badler, Michael Durrell, Faye Grant, David Packer, Neva Patterson, Tommy Petersen, Marc Singer, Blair Tefkin, Michael Wright, Bonnie Bartlett, Leonardo Cimino, Richard Herd, Richard Lawson, Andrew Prine, Frank Ashmore, Jason Bernard, Rafael Campos, Robert Englund, Joanna Kerns, William Russ and Denny Miller.
10:00 AM
V: Original Miniseries - Part One
50 spaceships hover over major cities worldwide, but the aliens' leader offers assurances that they have come on a peaceful mission.
12:30 PM
V: Original Miniseries - Part Two
The mothership is infiltrated and the aliens' evil plan is revealed.
02:30 PM
Pandorum
After awakening from hypersleep with no memory of their mission, astronauts Lt. Payton (
Dennis Quaid
) and Cpl. Bower (
Ben Foster
) discover that the 60,000 passengers aboard their vast spacecraft have vanished without a trace. Little do they realize that they will soon be fighting for the survival of the entire human race.
Cast includes Dennis Quaid, Ben Foster, Cam Gigandet, Antje Traue, Cung Le, Eddie Rouse and
The Walking Dead's
Norman Reedus.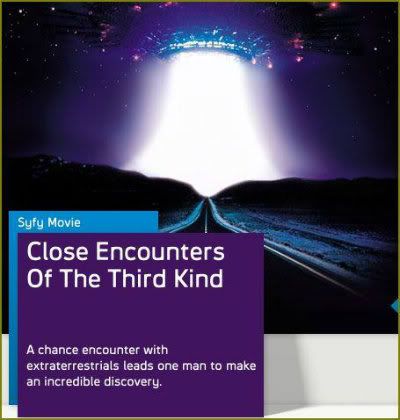 05:00 PM
Close Encounters Of The Third Kind
After an encounter with UFOs, a line worker feels undeniably drawn to an isolated area in the wilderness where something spectacular is about to happen.
Cast includes Richard Dreyfuss, François Truffaut, Teri Garr, Melinda Dillon, Bob Balaban, J. Patrick McNamara, Warren J. Kemmerling, Roberts Blossom, Philip Dodds, Cary Guffey, Lance Henriksen and Josef Sommer.