Source:
Collider
[follow link for complete interview]
COLLIDER: Bailey Chase Talks LONGMIRE and Compares His Experience on Network TV to the Cable Schedule
by
Christina Radish
June 2nd, 2012
The A&E drama series
Longmire
, based on the
Walt Longmire
mystery novels by best-selling author
Craig Johnson
, is a contemporary crime thriller set in Big Sky country. Walt Longmire (Australian actor
Robert Taylor
) is the charismatic, dedicated and unflappable sheriff of Absaroka County, Wyoming, who buries the pain of losing his wife behind a brave face and dry wit. With the help of Victoria "Vic" Moretti (
Katee Sackhoff
), a female deputy new to the department, Longmire becomes reinvigorated about his job and committed to running for re-election, as he rebuilds his personal and professional life.
During this exclusive interview with Collider, actor
Bailey Chase
– who plays Deputy Branch Connally, a confident go-getter with political aspirations that often motivate him more than solving cases – talked about what attracted him to
Longmire
, how he had originally auditioned for the title role, how much he enjoys the character development, why he prefers the shorter cable TV schedule, and what initially drew him to acting...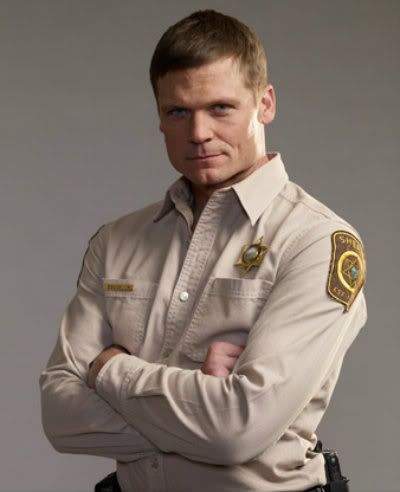 ...
Collider: Having played cops before, do you always look for something in the character that makes him different?
CHASE
: "
It's tricky. The more territory you cover, the less room you have. In the pilot, it's all really new and exciting. But, Saving Grace went season after season and I was always longing to do more with the characters' lives. Longmire is more of a show about the characters and you couldn't pay a bigger compliment than to want to know more about my character, or the characters on the show. With Saving Grace, it was more focused on the central character. I'm hoping and thinking that Longmire is going to be a very different experience, in that we will be able to cover all of that territory in, hopefully, the years to come, as long as we get the green light to tell those stories...
"
Longmire
premieres Sunday, June 3, 2012 at 10/9c on A&E. Cast includes Robert Taylor, Katee Sackhoff, Lou Diamond Phillips, Bailey Chase, Cassidy Freeman and Adam Bartley.