Source: TCM
schedulebot
[
NOTE: TCM schedule subject to change(s)
]
CLASSIC HORROR MOVIE MARATHON - TCM: SCHEDULE FRIDAY, JUNE 8, 2012
TCM PRIMETIME - WHAT'S ON TONIGHT: CREEPY OLD MANSIONS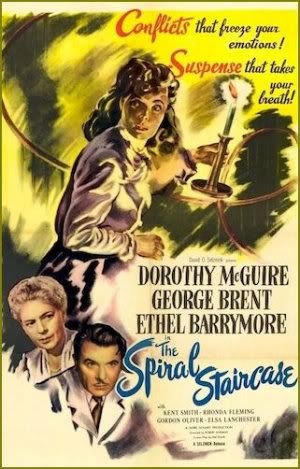 08:00 PM
The Spiral Staircase
Stellar suspense tale about an insane killer menacing a mute servant (
Dorothy McGuire
). A serial killer stalks a mute servant girl in a remote mansion. . Superb Hitchcock-like thriller with unforgettable performance by
McGuire
as mute servant in eerie household which may be harboring a killer. Well scripted by
Mel Dinelli
, adapting
Ethel Lina White's
novel
Some Must Watch
.
Cast includes Dorothy McGuire, George Brent, Ethel Barrymore, Kent Smith, Rhonda Fleming, Gordon Oliver, Elsa Lanchester, Rhys Williams, Sara Allgood.
09:30 PM
The Innocents
Jack Clayton
directed this version of
Henry James'
ghost story "
The Turn of the Screw
." A governess convinces herself the children in her charge are haunted.
Cast includes Isla Cameron, Eric Woodburn, Pamela Franklin, Martin Stephens, Deborah Kerr, Clytie Jessop, Megs Jenkins, Peter Wyngarde, Michael Redgrave.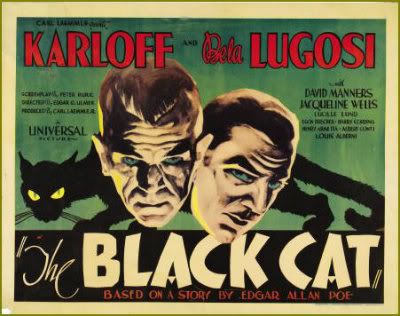 11:15 PM
The Black Cat
Devil cultist Hjalmar Poelzig (
Boris Karloff
) vs. Dr. Vitus Verdegast (
Bela Lugosi
), in a futuristic mansion atop the ruins of a World War I fort. A Satanist faces off with the vengeful man whose wife and daughter he has stolen. Polished horror film with bizarre sets, even more bizarre plot. Confrontation of architect/devil-worshiper
Karloff
and doctor
Lugosi
is still fascinating. The first of
Boris
and
Bela's
many teamings. Look fast for
John Carradine
as an organist at Satanic Mass.
Cast includes Boris Karloff, Bela Lugosi, David Manners, Jacqueline Wells (Julie Bishop), Lucille Lund, Henry Armetta, Harry Cording.
12:30 AM
Gaslight
(1940)
Original version of
Patrick Hamilton's
Victorian melodrama about a fortune hunter's efforts to drive his wife mad. A turn-of-the-century bride moves into the house where her aunt was murdered and begins to fear she's going mad. First version of
Patrick Hamilton's
play about an insane criminal who drives his wife crazy in order to discover hidden jewels. Electrifying atmosphere, delicious performances, and a succinctly conveyed sense of madness and evil lurking beneath the surface of the ordinary.
Cast includes Anton Walbrook, Diana Wynyard, Frank Pettingell, Cathleen Cordell, Robert Newton, Jimmy Hanley.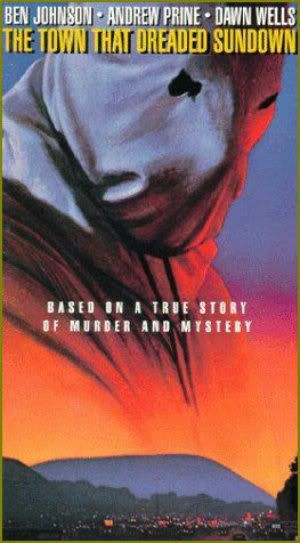 02:00 AM
The Town That Dreaded Sundown
Fact-based story of a killer who terrorized a Texas-Arizona border town in the 1940s.
Cast includes Ben Johnson, Andrew Prine, Dawn Wells, Jimmy Clem, Jim Citty, Charles B. Pierce, Robert Aquino, Cindy Butler, Christine Ellsworth.
03:30 AM
In Cold Blood
(1967)
Robert Blake
and
Scott Wilson
in
Richard Brooks'
semidocumentary about two youths who murdered the Clutter family of Holcomb, Kan., in 1959. From
Truman Capote's
book. Two vagrants try to outrun the police after committing a savage crime in this real-life shocker.
Cast includes Robert Blake, Scott Wilson, John Forsythe, Paul Stewart, Gerald S. O'Loughlin, Jeff Corey, Will Geer.