Source: Syfy
schedulebot
[
NOTE: Syfy schedule subject to change(s)
]
FANTASY MOVIE MARATHON - SYFY: SCHEDULE SUNDAY, JUNE 10, 2012
09:00 AM
The Invisible
Not-so-super supernatural thriller about a teen (
Justin Chatwin
) hovering between the realms of the living and the dead.
Cast includes
Hawaii Five-0's
Alex O'Loughlin
, Justin Chatwin, Margarita Levieva, Marcia Gay Harden, Chris Marquette, Callum Keith Rennie, Michelle Harrison, Kevin McNulty, Laara Sadiq,
Glee's
Cory Monteith, Leanne Adachi,
Sanctuary's
Christopher Heyerdahl and Ryan Kennedy.
11:00 AM
Children Of Men
Captivating thriller set in 2027 London, where no children are being born and a reluctant activist (
Clive Owen
) tries to protect a woman who becomes pregnant. Directed by
Alfonso Cuarón
, who co-wrote the script based on the
P.D. James
novel "
The Children of Men
."
Cast includes Clive Owen, Michael Caine, Chiwetel Ejiofor, Julianne Moore, Danny Huston, Charlie Hunnam, Paul Sharma, Tehmina Sunny and Pam Ferris.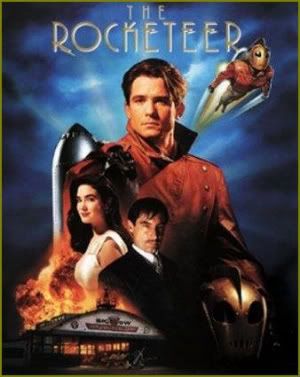 01:00 PM
The Rocketeer
In 1938 Los Angeles, a pilot (
Bill Campbell
) finds a rocket-pack that enables him to fly.
Cast includes Bill Campbell, Jennifer Connelly, Alan Arkin, Jon Polito, Timothy Dalton, Paul Sorvino, William Sanderson, Margo Martindale, Melora Hardin, Terry O'Quinn, Ed Lauter and James Handy.
03:30 PM
The Village
Residents of a 19th-century town are terrorized by the mysterious creatures that lurk in the nearby woods.
Cast includes Bryce Dallas Howard, Joaquin Phoenix, Adrien Brody, William Hurt, Sigourney Weaver, Brendan Gleeson,
Awake's
Cherry Jones, Celia Weston, John Christopher Jones, Frank Collison, Jayne Atkinson and Judy Greer.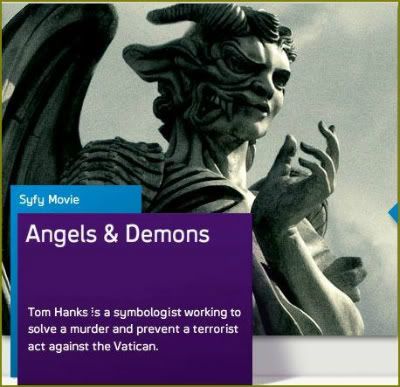 06:00 PM
Angels & Demons
Tom Hanks
returns to the role of Robert Langdon in this sequel to "The Da Vinci Code." Langdon uncovers the existence of the Illuminati, a secret sect thought to be defunct that plans to destroy the Catholic Church. Langdon joins forces with an Italian scientist (
Ayelet Zurer
) on a globe-trotting quest to stop the plan before it can come to fruition. Directed by
Ron Howard
.
Cast includes Tom Hanks, Ewan McGregor, Ayelet Zurer, Stellan Skarsgård, Pierfrancesco Favino, Nikolaj Lie Kaas and Armin Mueller-Stahl.
09:00 PM
The Devil's Advocate
Al Pacino
has a field day playing Lucifer disguised as the head of a law firm in this thriller about a lawyer (
Keanu Reeves
) who doesn't realize his new boss is a real demon.
Cast includes Keanu Reeves, Al Pacino, Charlize Theron, Jeffrey Jones, Judith Ivey, Connie Nielsen, Craig T. Nelson,
Castle's
Ruben Santiago-Hudson, Debra Monk and George Wyner.
12:00 AM
The Village