Source: Syfy
schedulebot
FANTASY MOVIE MARATHON - SYFY: SCHEDULE THURSDAY, MARCH 1, 2012
08:00 AM
Alice - Part One
A modern retelling of
Lewis Carroll's
"
Alice's Adventures in Wonderland
" and "
Through the Looking-Glass
," in which the titular heroine faces off against the villainous Queen of Hearts in a parallel universe.
Cast includes Caterina Scorsone,
Primeval's
Andrew Lee Potts, Matt Frewer,
Strike Back's
Philip Winchester, Tim Curry, Harry Dean Stanton, Timothy Webber, Zak Santiago,
Hell on Wheel's
Colm Meaney,
Harry's Law
Kathy Bates,
Battlestar Galactica's
Alessandro Juliani, and
Stargate SG-1
alums Teryl Rothery, Alex Diakun, Kevan Ohtsji and Jason Schombing.
10:00 AM
Alice - Part Two
The ruthless Queen of Hearts (
Kathy Bates
) continues her bid to obtain the Stone of Wonderland, which controls the portal to Alice's world, in this modern retelling of
Lewis Carroll's
"
Alice's Adventures in Wonderland
" and "
Through the Looking-Glass
."
12:00 PM
Tristan & Isolde
Prosaic retelling of the legendary folktale about the star-crossed love affair of an English warrior (
James Franco
) and an Irish princess (
Sophia Myles
) in war-torn medieval Britain.
Cast includes James Franco,
Moonlight's
Sophia Myles, Rufus Sewell, David O'Hara, Mark Strong, Henry Cavill, Bronagh Gallagher, Ronan Vibert and Lucy Russell.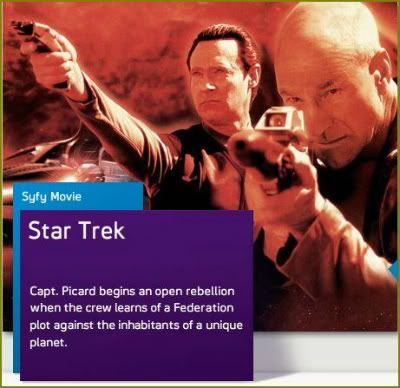 02:30 PM
Star Trek: Insurrection
The ninth film in the series finds Capt. Picard (
Patrick Stewart
) and his crew questioning orders from Starfleet regarding a planet with mystical powers. Ambitious but sluggish. Directed by
Jonathan Frakes
, who plays Cdr. Riker.
Cast includes Patrick Stewart, Jonathan Frakes, Brent Spiner, LeVar Burton, Michael Dorn, Gates McFadden, Marina Sirtis, F. Murray Abraham, Donna Murphy, Anthony Zerbe, Gregg Henry, Daniel Hugh Kelly and Michael Welch.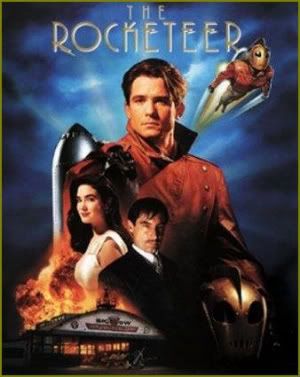 04:30 PM
The Rocketeer
In 1938 Los Angeles, a pilot (
Bill Campbell
) finds a rocket-pack that enables him to fly.
Cast includes Bill Campbell, Jennifer Connelly, Alan Arkin, Jon Polito, Timothy Dalton, Paul Sorvino, William Sanderson, Margo Martindale, Melora Hardin, Terry O'Quinn, Ed Lauter and James Handy.
07:00 PM
Enchanted
Delightful musical-comedy about a princess (
Amy Adams
) dispatched from her fairy-tale realm by an evil queen (
Susan Sarandon
) and resurfacing in modern-day Manhattan. She meets a divorced lawyer (
Patrick Dempsey
) who takes her in while she awaits the arrival of her Prince Charming (
James Marsden
).
Cast includes Amy Adams, Patrick Dempsey, James Marsden, Timothy Spall, Idina Menzel, Rachel Covey and Susan Sarandon.
09:00 PM
The Brothers Grimm
In
Terry Gilliam's
inventive fantasy, the famed 19th-century writers get caught up in a real-life fairy tale involving a haunted forest where girls have been disappearing.
Cast includes Matt Damon, Heath Ledger, Petr Ratimec, Barbora Lukesová, Anna Rust and Jeremy Robson.
11:30 PM
9
Courageous rag doll 9 and his friends battle an army of fearsome machines in a postapocalyptic world.
Featuring the voices of Christopher Plummer, Martin Landau, John C. Reilly, Crispin Glover, Jennifer Connelly, Fred Tatasciore, Elijah Wood, Alan Oppenheimer, Tom Kane and Helen Wilson.
01:00 AM
The Brothers Grimm
03:30 AM
The Rocketeer