Source:
SFX Magazine
[follow link for complete interview]
SFX MAGAZINE: Being Human Series Four – On Set With Michael Socha
Find out which episode of the new series features some sexy Latin – and learn the lyrics to the Being Human series four song!
by
Ian Berriman
January 31 2012
On a cold November afternoon in
Being Human's
Welsh base (a former bus depot which feels more like a rivet factory or something than a TV studio), SFX stands on the sidelines observing as cast and crew shoot part of episode five of the new series, "
Hold The Front Page
".
It features
Michael Socha
as young werewolf Tom McNair, but he doesn't have to do much other than sit on his bed and react. The scene showcases the erotic possibilities of Latin, as a female guest star dressed as a barrister (wig, gown and all) advances on Tom, sensually intoning phrases like "habeas corpus" and "mutatis mutandis" whilst unbuttoning her blouse… Good luck figuring out how that might fit into a storyline!
Afterwards, we catch up with the actor to find out what it's like stepping up from being a recurring guest star to a series regular...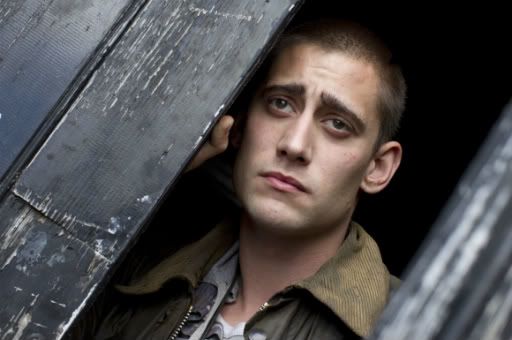 ...
Q: What's the maddest day you've had on set?
Michael Socha
: "Transformation day is a fucking ridiculous day! You spend so long in the make-up chair to do half an hour of screaming your head off, and then I think, ''Fucking hell, I've actually done that and got paid for it today!'. I sit down with some wonderful women who are brilliant at what they do, then I go and shout me head off, then go home and have a pint and think, 'Fuck, this is how I earn my money – this is what I do?!' Yeah, it's mad. But I always hoped and wanted to be doing this as a kid and I never thought for a second I would, so every day's a fucking good day..."
And there was an unusual conclusion to our interview as Michael called over
Damien Molony
(Hal) to sing a
Being Human
song they'd put together, which goes a little something like this! (You'll have to imagine how it looks and sounds, but to give you some help: the first line is sung to the tune of "
Starry, Starry Night
", while the second's accompanied by gestures to the scars on Tom's head)
"
Scarry, scarry head…
The lines go down from neck to brow on this boy's head!
Scary scary vamp (Scary, scary, scary vamp!)
He's dressed divine, but the boy with the lines is dressed like a tramp. (Dressed like a tramp!)
Quite nice see-through ghost
Others have been and gone but she's number one, so she's paid the most.
She's paid the most!
"
Being Human season four premieres on BBC America on Saturday, February 25, 2012 at 9/8c.