Source:
Syfy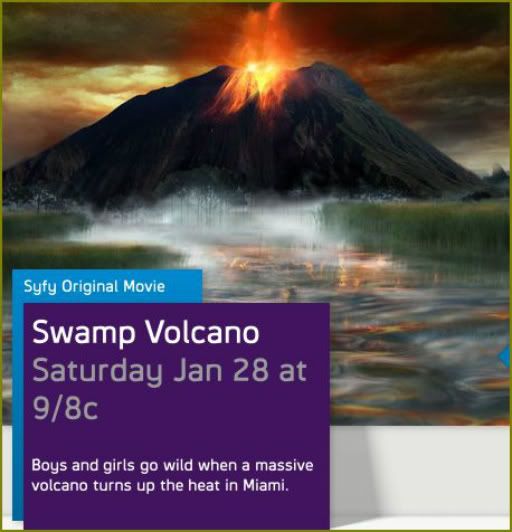 SWAMP VOLCANO - SYFY VIDEO: SNEAK PEEK # 2 - Unlucky Fisherman - PREMIERES SATURDAY, JANUARY 28, 2012 AT 9/8c
Watch a sneak peek from the next upcoming Syfy Original Movie "Swamp Volcano." Premieres Saturday January 28 9/8C.
[Swamp Volcano was originally titled Miami Magma]
Rumbles turn to explosions on an offshore drilling rig. But it's magma, not oil, that spews up from the depths! Antoinette Vitrini, a prodigy volcanologist, investigates to find that the energy company that owned the rig has tapped a lava tube system, awakening a long- dormant underground volcano whose core lies directly beneath Miami! Antionette and her team have to figure out how to vanquish the volcano before all of Florida is blown into the Atlantic!
Cast includes Stacey Asaro, Owen Davis, Cleavant Derricks, Joseph Diaz, Miles Doleac, Brad Dourif, J.D. Evermore, Griff Furst, Lauren Graham, Emily D. Haley and Rachel Hunter.