Source:
Syfy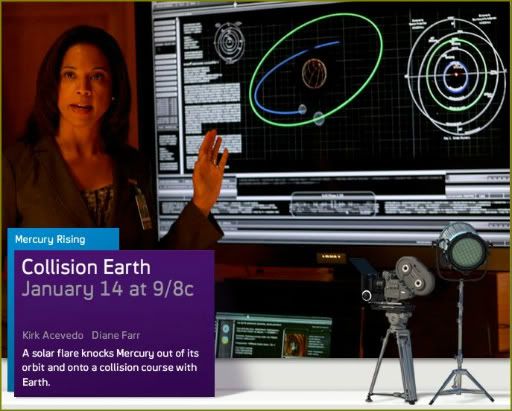 COLLISION EARTH - SYFY VIDEO: SNEAK PEEK # 1 - Something's Wrong - PREMIERES SATURDAY, JANUARY 14, 2012 AT 9/8C
Watch a sneak peek from the next upcoming Syfy Original Movie "Collision Earth." Premieres Saturday January 14 9/8C.
When a massive comet collides with the Sun, the explosion jettisons the planet Mercury from its orbit and sends it on a fatal collision course with Earth. With each passing day, Earth's unstable gravitational field creates catastrophic disasters that threatens to tear the planet apart. The only hope for survival is a hidden top-secret military weapon that has the power to destroy Mercury before it slams into Earth. It becomes a race against time to find the weapon the military has kept hidden for 20 years.
Cast includes
Fringe's
Kirk Acevedo, Diane Farr, Chad Krowchuk, Jessica Parker Kennedy, Adam Greydon Reid, Andrew Airlie, David Lewis, Kevan Ohtsji, Catherine Lough and Juan Riedinger.