Source: Los Angeles Times'
Hero Complex
[follow link for complete interview]

LOS ANGELES TIMES' HERO COMPLEX: 'Doctor Who': Karen Gillan on Amy Pond's past and future
Dec. 14, 2011
by
Noelene Clark
Even after the October finale of the nail-biting sixth season of "
Doctor Who
," there's been plenty of suspense for Whovians — they've been counting down the days until the Christmas special, "
The Doctor, the Widow and the Wardrobe
"; keeping track of the "
Doctor Who
" feature film speculation; celebrating
TARDIS Day
; and reveling in the recovery of long-lost classic "
Who
" episodes. The most recent season also hit store shelves last month in a new fancy boxed set. To look back at what some fans consider the most enthralling season in the show's 48-year history, Hero Complex writer
Noelene Clark
caught up with
Karen Gillan
, who plays Amy Pond, the traveling companion of
Matt Smith's
Doctor. Click through the gallery [
at link above
] to look back at Amy Pond's adventures this season, and read her interview ...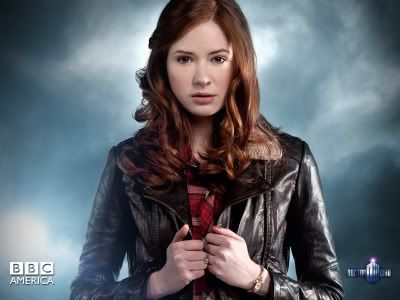 ...
NC: And then there's also Amy's relationship with Rory, Arthur Darvill's character.
KG
: "
Oh, I love that relationship so much because it's developed so much throughout the last two seasons. If we remember back to "The Eleventh Hour," the very first episode, Amy was so reluctant to commit to this man. Like he would say he was her boyfriend, and she'd say, "kind-of boyfriend." And then Amy runs away on the night before her wedding because she doesn't want to commit. And on the night before she's, you know, supposed to grow up, she decides to run away like a child. And then Rory kind of proves himself through a series of heroic events. And they just kind of… it's like not knowing what you have until it's gone. And I guess with being faced with the prospect of Rory being gone, Amy's realized how much she cares about him, and finally marries him, and now they have a child. It's developed so much...
"
Doctor Who's 2011 Christmas special episode, "The Doctor, the Widow and the Wardrobe," airs December 25, 2011 at 9/8C on BBC America.