Source:
Syfy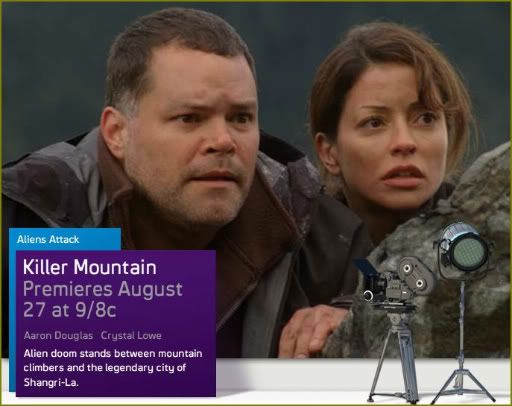 'KILLER MOUNTAIN' - SYFY VIDEO: Sneak Peek # 1 'Warning' Airs Saturday, August 27, 2011 at 9/8C
Watch a sneak peek for the upcoming Syfy Original Movie "Killer Mountain." Premieres Saturday August 27 9/8C.
In "
Killer Mountain
" – inspired by an ancient Himalayan legend – a team of climbers ("
Battlestar Galactica
" alums
Aaron Douglas
and
Paul Campbell
) is sent to a forbidden mountain to rescue a missing expedition. There, they discover that the mountain is the secret location of Shangri La -- protected by a bloodthirsty alien creature, the Druk.
Cast includes
Battlestar Galactica's
Aaron Douglas, Paul Campbell, Andrew Airlie, Curtis Caravaggio, Torrance Coombs, Byron Lawson, Crystal Lowe, Mig Macario, Robin Nielsen, Zak Santiago and Dale Wilson.