Source: Syfy
schedulebot
SYFY: SATURDAY MONSTER MOVIE MARATHON AUGUST 27, 2011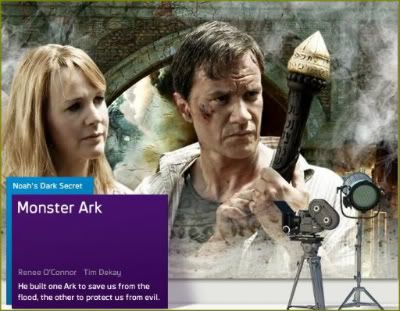 09:00 AM
Monster Ark
An ancient evil is unleashed by archaeologists in a remote region of the Middle East.
Cast includes Renée O'Connor,
White Collar's
Tim DeKay, Tommy 'Tiny' Lister, Amanda Crew, Carlos Leon, Bill Parks and Richard Gnolfo.
11:00 AM
Wyvern
A dragon menaces an Alaskan town. [No, not Sarah Palin...]
Cast includes Nick Chinlund, Erin Karpluk, Barry Corbin, Elaine Miles, Tinsel Korey,
Stargate SG-1's
Don S. Davis and David Lewis.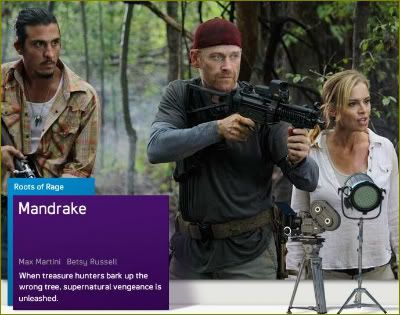 01:00 PM
Mandrake
An expedition to find a mystical dagger goes horribly awry when researchers accidentally awaken some deadly vegetation.
Cast includes Max Martini, Betsy Russell, Benito Martinez, Jon Mack, Nick Gomez, Wayne Pére and Freddie Joe Farnsworth.
03:00 PM
Mongolian Death Worm
Man-eating worms and local bandits become problematic for a group of treasure hunters in search of Genghis Khan's tomb in central Mongolia.
Cast includes Sean Patrick Flanery, Drew Waters, George Cheung, Victoria Pratt, Cheryl Chin and Jon Mack.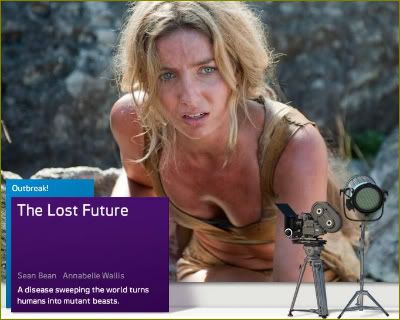 05:00 PM
The Lost Future
Set in a future where jungles have overtaken the remnants of civilization, a tribe struggles to survive amid mutated creatures that carry a deadly disease.
Cast includes
Game of Throne's
Sean Bean, Corey Sevier, Sam Claflin, Annabelle Wallis, Eleanor Tomlinson, Hannah Tointon and Jonathan Pienaar.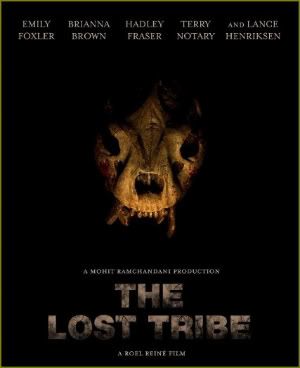 07:00 PM
The Lost Tribe
Young seafarers encounter a prehistoric tribe of predators after becoming shipwrecked on a tropical island.
Cast includes Lance Henriksen, Emily Foxler, Nick Mennell, Marc Bacher, Brianna Brown, Hadley Fraser, Maxine Bahns and Ryan Alosio.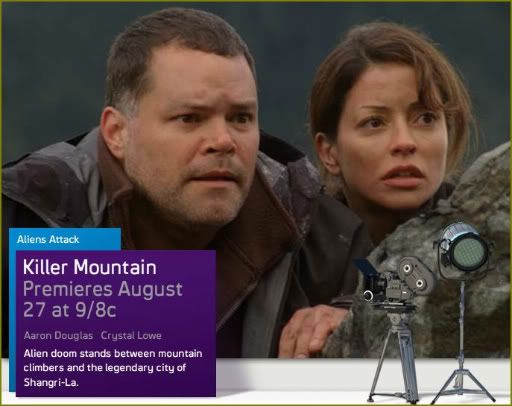 09:00 PM
Killer Mountain
-
Premiere!
Some mountains are forbidden for a reason. Killer Mountain Saturday Aug. 27 at 9/8c.
In "
Killer Mountain
" – inspired by an ancient Himalayan legend – a team of climbers ("
Battlestar Galactica
" alums
Aaron Douglas
and
Paul Campbell
) is sent to a forbidden mountain to rescue a missing expedition. There, they discover that the mountain is the secret location of Shangri La -- protected by a bloodthirsty alien creature, the Druk.
Cast includes
Battlestar Galactica's
Aaron Douglas, Paul Campbell, Andrew Airlie, Curtis Caravaggio, Torrance Coombs, Byron Lawson, Crystal Lowe, Mig Macario, Robin Nielsen, Zak Santiago and Dale Wilson.
11:00 PM
Sand Serpents
American soldiers take on man-eating worms in addition to the Taliban in this rousing sci-fi adventure.
Cast includes Jason Gedrick, Tamara Hope, Elias Toufexis, Sebastian Knapp, Michelle Asante and Chris Jarman.
01:00 AM
Killer Mountain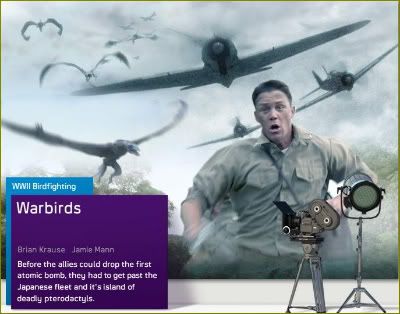 03:00 AM
Warbirds
A World War II bomber is forced to land on a Pacific island, where the crew is pitted against flying dinosaurs and rival Japanese forces.
Cast includes Jamie Elle Mann, Brian Krause, Tohoru Masamune, Lucy Faust and David Jensen.