Source:
TV Line
[follow link for complete interview]

TV LINE: Mark Pellegrino Previews The Closer's New Legal Nightmare and Talks Of Being Human Again
December 25, 2011
by
Matt Webb Mitovich
This Monday on
The Closer's
winter finale (TNT, 9/8c), Gavin Q. Baker III may decide that working pro bono for the LAPD isn't worth any amount of courtroom infamy, when yet another twist in the "Shootin' Newton" case puts him and Deputy Chief Brenda Leigh Johnson even more on the defensive. In this exclusive TVLine Q&A,
Mark Pellegrino
spoke about this latest wrinkle for his Closer counselor as well as previewed his most unlikely
Being Human
encore and his role in
Castle's
time-trippy episode...
Mark Pellegrino and Kyra Sedgwick from The Closer
...
TVLINE | Does Gavin get fed up by this latest snag? Does Gavin ever get fed up?
Mark Pellegrino
: "
Gavin does get fed up with Brenda from time to time because there's always some crisis to stamp out, plus Goldman [the opposing counsel played by Curtis Armstrong] is such a bulldog intent on bringing down the LAPD, and Brenda in particular because he thinks she's rogue. So [Brenda and I] have our spats, and the last you saw us together she was kind of snotty to me for some unknown reason, and I was kind of forced to work for free...
"
The Closer season seven winter finale, 'Silent Partner,' airs Monday, December 26, 2011 at 9/8C on TNT.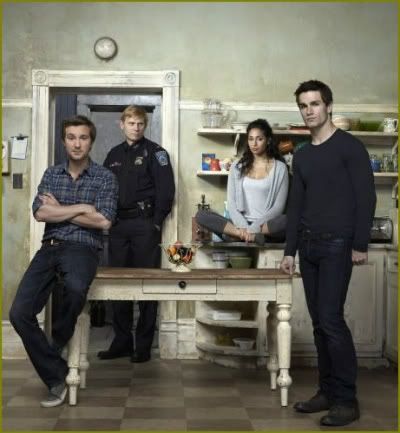 Sam Huntington, Mark Pellegrino, Meaghan Rath and Sam Witwer - Syfy's Being Human
...
TVLINE | What can you say about your return to Syfy's Being Human (Season 2 premieres Jan. 16), seeing as how you were decapitated and all?
Mark Pellegrino
: "
I've been told not to say anything, so…. But I became really, really close everybody on that set, so that's something that I hope becomes a consistent thing. Sam Witwer (who plays vampire Aidan) and I are really good friends and going back to work for them is like going to work for my brother. I've gotten close to them like I've never gotten close to any cast members before...
"
...
TVLINE | TVLine broke the news that you're a part of Castle's upcoming "noir" episode. What's that all about?
Mark Pellegrino
: "
[Castle] gets a hold of a diary that was written in the '40s, and he's trying to solve a [modern day] crime through the information in it. And every time he reads it he flashes back to the '40s, with the principal characters playing characters in the diary. I'm the only "stranger," because I'm playing a gangster who owns this famous nightclub, a jazz club. Nathan [Fillion] was so good, Stana [Katic]'s so good…. They're both so easy to work with...
"