Source:
Syfy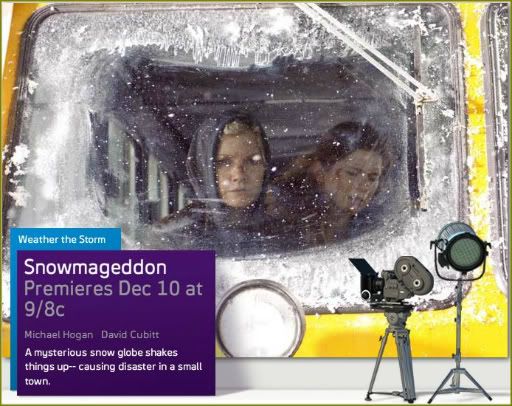 SNOWMAGEDDON - SYFY VIDEO: MOVIE TRAILER - PREMIERES SATURDAY, DECEMBER 10, 2011 AT 9/8C
A mysterious snow globe shakes things up in a small town. Syfy Original Movie Event Snowmageddon, Saturday Dec. 10 at 9/8c.
When the Miller family discovers a mysterious gift outside their home on Christmas eve, they could never imagine it would contain the power to doom their idyllic mountain community. The gift contains a snow globe with a perfect reflection of their own town inside. When they shake it, snow even begins to fall - whatever happens inside the snow globe, happens to their town for real. But when buttons on the snow globe unleash a series of terrible disasters on the town, the family must band together and find a way to destroy it - before it's too late.
Cast includes
Medium's
David Cubitt, Laura Harris,
Battlestar Galatica's
Michael Hogan, Magda Apanowicz, Jeffrey Ballard, Leanne Lapp, Dylan Matzke, Carolyn Adair, Teach Grant and Amitai Marmorstein.