Source:
Syfy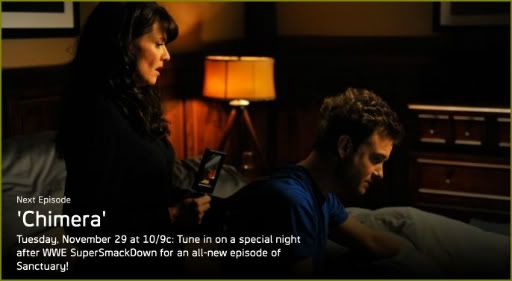 SANCTUARY - SYFY VIDEO: 'Chimera' Episode Trailer - Special Night - Tuesday, November 29, 2011 at 10/9C
Tesla and Magnus get warning signs that there's a sentient being in their computer system. A special night, Tuesday at 10/9c.
Magnus and Nikola Tesla (
Jonathon Young
) become trapped in a virtual Sanctuary world at the mercy of the evil avatar of Adam Worth.
Adam Worth (
Ian Tracey
) resurfaces as an avatar in a virtual Sanctuary, where he imperils Magnus and Tesla in a bid to enter the real world.
Guest stars include Jonathon Young and Ian Tracey.
Also airs:
Dec 2 10:00 PM
Chimera
Dec 3 12:00 AM
Chimera
Dec 6 03:00 AM
Chimera