Source:
Vancouver Observer
[follow link for complete interview]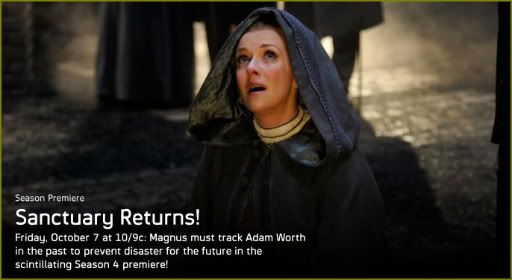 VANCOUVER OBSERVER: Sanctuary: interview with Director Damian Kindler
by
Hayden Case
Oct 6th, 2011
Born in Melbourne, Australia,
Damian Kindler
is the writer, creator, director and producer of
Sanctuary
. His previous credits have included
Stargate SG1
and
Stargate Atlantis
.
I caught up with Damien between production set-ups on the latest series of
Sanctuary
. The interview takes place surrounded by props, costumes, and with extras wandering past intermittently. With the misty late night air, spotlights dancing about above, and with the hum of generators in the background, there is a funky sense of surrealism to the proceedings. Damian talks quickly, his mind works fast, information rolls over and over...
...
Q: What's it like being the boss? What are your methods?
Damian Kindler
: "
As a director I find it is best to let everyone get on with their jobs. I write the story arc and elements of the script – it's a map, a starting point. Once you have that in place you can move from there. You have to be flexible, that's what I've learned. It's a collaborative effort and you have to trust the crew to do their jobs and let them work on it. It's also important to trust your instinct. Your first instinct is usually the right one and there's no time to over think it. Using Gil Bellows in series four of the show is an example of that. Amanda [Tapping] suggested him to me and I thought 'yeah, why not? This could be good' And it has been. He's been great to have on board. Obviously it takes time to write and plan the series and each show, but overall the whole thing has a run and gun, guerrilla feel to it. Great energy!
"