Source: Syfy
schedulebot
SYFY: The Twilight Zone (1959): Fourth of July Celebration Marathon - July 4, 2011
8:00 AM
Two
Two survivors of an apocalyptic battle, a man and a woman from each opposing sides, approach each other suspiciously.
Cast includes Elizabeth Montgomery and Charles Bronson.
08:30 AM
The Changing Of The Guard
A well-loved teacher feels his useful life is over when he is asked to retire.
Cast includes Donald Pleasence and Liam Sullivan.
09:00 AM
Dead Man's Shoes
A down-and-out man steals the fancy shoes from the body of a murdered gangster and finds himself living in the dead man's footsteps.
Cast includes Warren Stevens, Richard Devon and Joan Marshall.
09:30 AM
Ninety Years Without Slumbering
An old man believes that his life will end the moment his grandfather clock stops ticking.
Cast includes Ed Wynn, Carolyn Kearney and James T. Callahan.
10:00 AM
The Hunt
(
One of my favorite episodes
)
A hunter and his faithful dog are drowned while chasing a raccoon, and confront a gatekeeper who implies that he is St. Peter and that Heaven lies inside.
Cast includes Arthur Hunnicutt, Jeanette Nolan and Robert Foulk.
10:30 AM
The Old Man In The Cave
A small community has survived the aftermath of a nuclear holocaust by accepting the advice of The Old Man in the Cave.
Cast includes James Coburn, John Anderson and Josie Lloyd.
11:00 AM
The Last Flight
Fleeing from a World War One dogfight, a cowardly British pilot lands his 1917 biplane at a modem jet air base in France ...in 1959.
Cast includes Kenneth Haigh, Alexander Scourby, Simon Scott and Robert Warwick.
11:30 AM
The Fever
An elderly man catches gambling fever from a slot machine that he believes is calling his name.
Cast includes Everett Sloane, Vivi Janiss, William Kendis and Lee Millar.
12:00 PM
A Penny For Your Thoughts
Timid bank clerk Victor Pool discovers that a coin that lands on its edge as he pays for a paper leaves him with the power to read minds.
Cast includes Dick York, June Dayton, Dan Tobin, Cyril Delevanti and Hayden Rorke.
12:30 PM
Stopover In A Quiet Town
The day after a drunken party, a married couple awakens in an unfamiliar house with no idea how they got there.
Cast includes Barry Nelson and Nancy Malone.
01:00 PM
A World Of His Own
A playwright describes characters into his tape recorder and they materialize before his eyes.
Cast includes Keenan Wynn, Phyllis Kirk and Mary LaRoche.
(Unk on left), Martin Landau and Malcolm Atterbury from Mr. Denton on Doomsday
01:30 PM
Mr. Denton On Doomsday
A broken-down gunslinger finds a magic potion that restores his shooting skill, but brings an end to his fast-draw career.
Cast includes Dan Duryea, Martin Landau, Jeanne Cooper, Malcolm Atterbury, Ken Lynch, Bill Erwin and Doug McClure.
02:00 PM
The Little People
On a desolate planet, two astronauts discover an entire society populated by beings only 1/100th their size. One of them decides to rule the society as god.
Cast includes Joe Maross, Claude Akins, Michael Ford and Robert Eaton.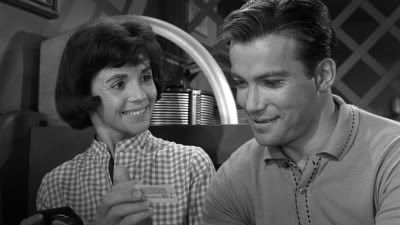 Patricia Breslin and William Shatner from Nick of Time
02:30 PM
Nick Of Time
A superstitious newlywed husband finds a penny fortune-telling machine that makes uncannily accurate predictions about his life.
Cast includes William Shatner and Patricia Breslin.
03:00 PM
The Dummy
A ventriloquist becomes convinced that his dummy has a will and a life of its own.
Cast includes Cliff Robertson, Frank Sutton and George Murdock.
03:30 PM
And When The Sky Was Opened
Three astronauts, returning from man's first space flight, cannot remember the events of their trip. Then they begin to disappear one by one.
Cast includes Jim Hutton, Charles Aidman and Maxine Cooper.
04:00 PM
Escape Clause
A man makes a pact with the devil for immortality then finds he doesn't get a kick out of living anymore.
Cast includes David Wayne, Thomas Gomez, Virginia Christine and Raymond Bailey.
04:30 PM
Mr. Garrity And The Graves
A con man convinces the inhabitants of a Western town that he can raise the dead from the local cemetery.
Cast includes John Dehner, Stanley Adams and J. Pat O'Malley.
05:00 PM
Probe 7 Over And Out
The lone survivors of two devastated planets meet on a new world.
Cast includes Richard Basehart, Antoinette Bower, Harold Gould and Barton Heyman.
05:30 PM
One For The Angels
Informed that his time on Earth is about up, a gentle sidewalk salesman named Bookman talks Mr. Death into letting him make one really big pitch.
Cast includes Ed Wynn, Murray Hamilton, Dana Dillaway and Jay Overholts.
06:00 PM
The Obsolete Man
A librarian in a future society is declared obsolete and told he must die.
Cast includes Burgess Meredith and Fritz Weaver.
06:30 PM
Third From The Sun
Two families steal a rocket ship and flee to another world before atomic war devastates their own.
Cast includes Fritz Weaver, Edward Andrews, Joe Maross and Denise Alexander.
07:00 PM
The Hitch-hiker
Driving cross-country, a girl keeps seeing the same hitch-hiker on the road ahead, beckoning her toward a fatal accident.
Cast includes Inger Stevens, Adam Williams and Lew Gallo.
Edson Stroll, William D. Gordon and Donna Douglas from Eye of the Beholder
07:30 PM
Eye Of The Beholder
In a hospital room, her face completely covered by medical wrappings, a woman waits to see if a last-chance operation on her face has fixed the freakishness that will have her sent to a reservation of outcasts.
Cast includes Maxine Stuart, William D. Gordon, Jennifer Howard and Donna Douglas.
08:00 PM
Will The Real Martian Please Stand Up
On the night of a UFO sighting, seven people at a diner claim to be of Earth, though one of them is not.
Cast includes John Hoyt, Jack Elam, Barney Phillips and Bill Erwin.
08:30 PM
Kick The Can
The magic of a children's game enables a group of old people to recapture their youth.
Cast includes Ernest Truex, Russell Collins, John Marley and Hank Patterson.
09:00 PM
The Odyssey Of Flight 33
A commercial airliner, en route to New York, breaks through the time barrier into the prehistoric past.
Cast includes John Anderson, Paul Comi and Sandy Kenyon.
09:30 PM
A Stop At Willoughby
A harassed executive escapes into the peaceful town of Willoughby in July 1880.
Cast includes James Daly, Howard Smith and Patricia Donahue.
10:00 PM
Five Characters In Search Of An Exit
Five people — a ballet dancer, a major, a clown, tramp and a bagpipe player — trapped in a featureless enclosure with no idea how they got there attempt to escape.
Cast includes Susan Harrison, William Windom, Murray Matheson, Kelton Garwood and Clark Allen.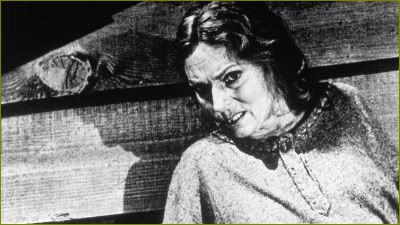 Anges Moorehead in The Invaders
10:30 PM
The Invaders
A lone woman battles two miniature spacemen whose craft crashes into her isolated farmhouse.
Cast includes Agnes Moorehead.
11:00 PM
I Sing The Body Electric
A widowed father buys his three young children an electronic grandmother to the delight of all but one of them.
Cast includes Josephine Hutchinson, David White and Veronica Cartwright.
11:30 PM
Walking Distance
A man's need to escape the pressure of his work is so great that he slips back 30 years into his own childhood.
Cast includes Gig Young, Frank Overton, Irene Tedrow and Ron Howard.
12:00 AM
Night Of The Meek
After a derelict Santa Claus is fired on Christmas Eve, he finds a mysterious bag that gives out presents. With this bag he sets out to fulfill his one wish - to see the less fortunate inherit the bounties of Christmas.
Cast includes Art Carney and John Fiedler.
12:30 AM
Night Call
A bedridden spinster receives mysterious phone calls from her long-dead fiancé.
Cast includes Gladys Cooper, Nora Marlowe and Martine Bartlett.
01:00 AM
The Grave
A hired gunman defies a Western outlaw's warning that if he ever came near his grave he'd reach up and snatch away his life.
Cast includes Lee Marvin, James Best, Strother Martin, Elen Willard and Lee Van Cleef.
01:30 AM
Queen Of The Nile
A magazine writer is determined to discover the secret of an ageless movie star's everlasting youth.
Cast includes Ann Blyth, Lee Philips, Celia Lovsky and Frank Ferguson.
02:00 AM
Ring-a-ding Girl
A movie star receives a gift from her hometown fan club that gives her a premonition of the future.
Cast includes Maggie McNamara, Mary Munday, David Macklin, George Mitchell, Bing Russell and Vic Perrin.
02:30 AM
The Four Of Us Are Dying
Arch Hammer can change his face to look exactly like someone else, a talent that he depends on for a living.
Cast includes Harry Townes, Phillip Pine, Ross Martin, Don Gordon and Beverly Garland.
03:00 AM
A Piano In The House
A strange piano allows the listener's hidden character to be suddenly revealed.
Cast includes Barry Morse, Joan Hackett and Don Durant.
03:30 AM
Twenty-two
A young woman complains of a recurring nightmare in which she always ends up in Room 22 — the hospital morgue.
Cast includes Barbara Nichols and Jonathan Harris.