Source: Syfy
schedulebot
NOTE
:
StarPulse
has an article on Twilight Zone Marathon.
SYFY: Twilight Zone (1959) Independence Day Celebration Marathon - Sunday, July 3, 2011
09:00 AM
The Rip Van Winkle Caper
Four thieves plot to hide out with their loot for 100 years in a state of suspended animation.
Cast includes Simon Oakland, Oscar Beregi Jr., Lew Gallo and John Mitchum.
09:30 AM
Mirror Image
While waiting in a bus station, Millicent Barnes has the strange feeling that her doppelganger is trying to take over her life.
Cast includes Vera Miles and Martin Milner.
John Dehner and Jack Warden (far right) from The Lonely
10:00 AM
The Lonely
Convicted of murder and sent to a deserted asteroid for 40 years, a man is given a robot woman for company.
Cast includes Jack Warden, John Dehner, Jean Marsh and Ted Knight.
10:30 AM
Hocus-pocus And Frisby
A celebrated yam-spinner finds no one will believe his latest tale — that he was kidnapped by aliens.
Cast includes Andy Devine, Milton Selzer, Howard McNear and Dabbs Greer.
11:00 AM
The Last Rights Of Jeff Myrtlebank
A young man wakes up at his own funeral and wants to know what the heck is going on. The townfolk are glad to see him back, but they begin to wonder if he's a man.. or something else?
Cast includes William Fawcett, James Best, Sherry Jackson, Edgar Buchanan, Dub Taylor and Ralph Moody.
11:30 AM
Mr. Bevis
A happy-go-lucky man loses his job, his car and his home in one morning, then meets his "guardian angel" who tells him they will start the day anew.
Cast includes Orson Bean, Henry Jones, William Schallert and Vito Scotti.
12:00 PM
A Thing About Machines
A bad-tempered writer is convinced the machines in his home are conspiring to destroy him.
Cast includes Richard Haydn, Barbara Stuart, Barney Phillips, Henry Beckman, Jay Overholts and Margarita Cordova.
12:30 PM
Number Twelve Looks Just Like You
A young woman resists pressure to be transformed into a state-controlled image of flawless beauty.
Cast includes Collin Wilcox Paxton, Richard Long, Pamela Austin and Suzy Parker.
01:00 PM
The Shelter
A group of neighbors turns into a hostile mob when they try to invade one family's bomb shelter, believing a nuclear attack is imminent.
Cast includes Larry Gates, Joseph Bernard, Jack Albertson, Peggy Stewart, Sandy Kenyon and Michael Burns.
01:30 PM
A Short Drink From A Certain Fountain
A wealthy old man begs his doctor-brother to inject him with an experimental youth serum.
Cast includes Patrick O'Neal, Ruta Lee and Walter Brooke.
02:00 PM
I Shot An Arrow Into The Air
A panicky astronaut traveler, believing his ship has crashed on a deserted asteroid, kills his two companions to save water, then discovers his shocking true location.
Cast includes Dewey Martin, Edward Binns, Ted Otis, Harry Bartell and Leslie Barrett.
02:30 PM
A Kind Of Stopwatch
A talkative man acquires a stopwatch with the power to halt all other action in the world.
Cast includes Richard Erdman, Herbie Faye, Doris Singleton and Roy Roberts.
03:00 PM
Little Girl Lost
A couple is awakened in the middle of the night by the cries of their six-year-old daughter who has fallen through a mysterious door into another dimension.
Cast includes Sarah Marshall, Robert Sampson and Charles Aidman.
03:30 PM
The 7th Is Made Up Of Phantoms
During maneuvers near the site of Custer's Last Stand, three national guardsmen find themselves plunged into the Battle of Little Big Horn.
Cast includes Ron Foster, Warren Oates, Randy Boone, Greg Morris and Robert Bray.
04:00 PM
Mr. Dingle, The Strong
A timid little man is experimentally endowed with superhuman strength by a visiting Martian scientist.
Cast includes Don Rickles, Burgess Meredith, James Westerfield, Eddie Ryder, Douglas Spencer and Michael Fox.
Roddy McDowall and Susan Oliver in People Are Alike All Over
04:30 PM
People Are Alike All Over
Sam Conrad, the first human to visit Mars, is relieved to find that the Martians treat him kindly and even build him a house like his home on Earth — but with one big difference.
Cast includes Roddy McDowall, Susan Oliver, Paul Comi, Byron Morrow and Vic Perrin.
Jonathan Winters and Jack Klugman in A Game Of Pool
05:00 PM
A Game Of Pool
A frustrated pool champ has beaten everyone. Everyone except one man; the legend, Fat's Brown. Brown is dead, and the champ can only curse his name. But guess who just walked in.
Cast includes Jack Klugman and Jonathan Winters.
05:30 PM
The Bewitchin' Pool
Two unloved children escape from their squabbling parents to a world that offers them a chance of happiness with a strange, kindly woman.
Cast includes Mary Badham, Dee Hartford and Tod Andrews.
06:00 PM
Death's Head Revisited
At the Dachau concentration camp, a former Nazi is tried by a phantom jury of his tortured victims.
Cast includes Joseph Schildkraut and Oscar Beregi Jr.
06:30 PM
Long Distance Call
A young boy keeps in touch with his dead grandmother via the toy telephone she once gave him.
Cast includes Philip Abbott, Lili Darvas, Patricia Smith and Bill Mumy.
07:00 PM
Living Doll
A man is threatened with revenge by the expensive talking doll he is planning to dispose of.
Cast includes Telly Savalas and Mary LaRoche.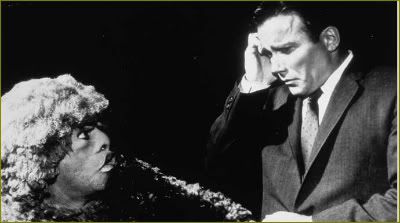 William Shatner in Nightmare at 20,000 Feet
07:30 PM
Nightmare At 20,000 Feet
A newly released mental patient is the only one able to see a gremlin ripping up the wing of his airliner.
Cast includes William Shatner and Christine White.
Burgess Meredith in Time Enough At Last
08:00 PM
Time Enough At Last
Nearsighted, meek bank clerk Henry Bernis is the sole survivor of an H-bomb attack. At last he has the time to engulf himself in his passion for books. Or so he thinks.
Cast includes Burgess Meredith, Vaughn Taylor and Jacqueline deWit.
08:30 PM
The Howling Man
Taking refuge in a European monastery during a storm, a man hears someone howling and is told it's the Devil who is being held prisoner.
Cast includes John Carradine, H.M. Wynant, Robin Hughes and Friedrich von Ledebur.
09:00 PM
The Monsters Are Due On Maple Street
A mysterious power failure causes paranoid suburban residents to suspect one another of being disguised creatures from outer space.
Cast includes Claude Akins, Barry Atwater and Jack Weston.
09:30 PM
The Masks
A wealthy old man compels his hateful family to wear masks they think are the opposite of their personalities. When they remove the masks a frightening change has taken place.
Cast includes Robert Keith, Milton Selzer, Virginia Gregg and Alan Sues.
10:00 PM
To Serve Man
Apparently benign alien emissaries show mankind how to end the misery of war, plague and famine.
Cast includes Lloyd Bochner, Susan Cummings and Richard Kiel.
Earl Holiman (right) from Where is Everybody
10:30 PM
Where Is Everybody
Greeted by empty streets, a man searches a small town to find that he is completely and inexplicably alone. The series pilot.
Cast includes Earl Holliman, James Gregory and Paul Langton.
11:00 PM
It's A Good Life
A six-year-old boy holds a town in terror with his powers to change or destroy anyone or anything at will.
Cast includes John Larch, Cloris Leachman, Don Keefer, Bill Mumy and Alice Frost.
11:30 PM
A Most Unusual Camera
A pair of petty thieves find that a camera they have just stolen can predict the future by the pictures it takes.
Cast includes Fred Clark, Jean Carson, Adam Williams and Marcel Hillaire.