Source: Syfy
schedulebot
SYFY: Mega Critters Movie Marathon Tuesday, March 15, 2011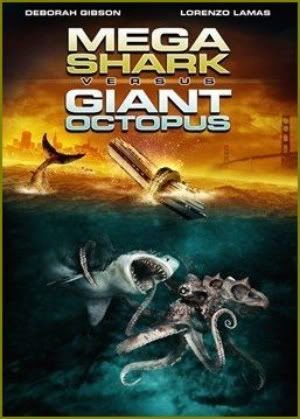 05:00 PM
Mega Shark Vs Giant Octopus
Two colossal prehistoric monsters terrorize the California coast while battling for supremacy of the sea in this salt-water creature feature starring Lorenzo Lamas and Deborah Gibson.
Cast includes Deborah Gibson, Lorenzo Lamas, Vic Chao, Jonathan Nation, Mark Hengst and Michael Teh.
07:00 PM
Dinoshark
A dinosaur-shark hybrid terrorizes a resort in Mexico, and it's up to a young fishing boat captain to stop it.
Cast include Eric Balfour, Iva Hasperger, Aarón Díaz, Humberto Busto and Richard Miller.
09:00 PM
Mega Python Vs. Gatoroid
Monstrous reptiles clash in the Florida Everglades when giant pythons threaten the alligator population.
Cast includes Deborah Gibson, Tiffany, A Martinez, Kathryn Joosten, Kevin M. Horton and Carey Van Dyke.