Source: Syfy
schedulebot
[
NOTE: Syfy schedule subject to change(s)
]
SHARKATHON MOVIE MARATHON - SYFY: SCHEDULE THURSDAY, AUGUST 22, 2013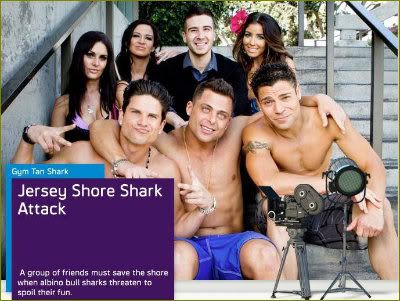 11:00 AM
Jersey Shore Shark Attack
Sharks menace the Jersey shore on July 4th weekend, and it's up to the locals to stop them. While everyone else runs scared, vacationing Jerseyites fend off shark attacks on the shore.
Cast includes Jeremy Luc, Melissa Molinaro, Jack Scalia, Paul Sorvino, William Atherton, Tony Sirico, Joey Russo, Daniel Booko, Alex Mauriello, Audi Resendez, Grant Harvey, Dylan Vox, Joey Fatone, Ben Giroux, Al Sapienza and Gabrielle Christian.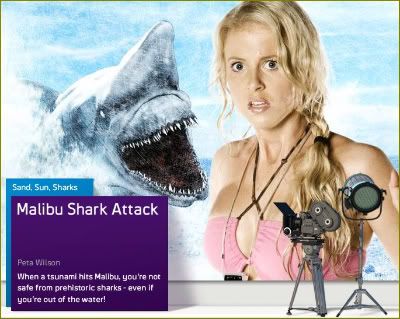 01:00 PM
Malibu Shark Attack
A tsunami brings goblin sharks to Malibu, CA, after a massive wave cuts lifeguards and construction workers off from dry land.
Cast includes Peta Wilson, Renee Bowen, Remi Broadway, Joel Amos Byrnes,
Alphas'
Warren Christie, Nicholas G. Cooper and Sonya Salomaa.
03:00 PM
Super Shark
A massive, primordial shark goes on a bloody killing spree after being set free during an offshore drilling mishap in this saltwater shocker starring
John Schneider
and
Jimmie "JJ" Walker
. As the tide runs red with blood, marine biologist Kat Carmichael (
Sarah Lieving
) finds her efforts to destroy the giant killing machine repeatedly foiled by shameless corporate shill Roger Wade (
Schneider
) and his scheming sidekick Stewart (
Jerry Lacy
). But when the beast begins using its flippers to walk on land, Kat recruits fearless Skipper Chuck (
Tim Abell
) and wisecracking DJ Dynomite Stevens (
Walker
) to blast it back into the ocean.
Cast includes John Schneider, Sarah Lieving, Tim Abell, Gerald Webb, Jimmie Walker, Jerry Lacy, Ted Monte, Catherine Annette, Trish Cook, Rick Cramer, John L. Curtis, J Ferguson, Michael Gaglio, Rebecca Grant, Blake Griffin, Carolyn Martin, Rya Meyers, Randy Mulkey, Jeff Murray and David Novak.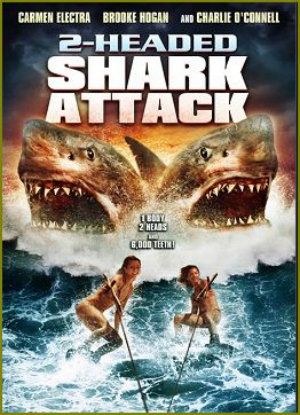 05:00 PM
2-headed Shark Attack
When a college educational ship is sunk by a mutated two-headed shark, the survivors escape to a deserted atoll. But when it starts flooding, the coeds are no longer safe from the double jaws of the monster.
Cast includes Carmen Electra, Charlie O'Connell, Brooke Hogan, Gerald Webb, Mercedes Young, David Gallegos, Geoff Ward, Shannan Stewart, Tihirah Taliaferro, Michael Dicarluccio, Lauren Vera, Marckenson Charles, Ashley Bissing, Corinne Nobili, Benjamin James, Chase Conner, Anna Jackson, Amber English, Collin Carmouze, Casey King Leslie, Morgan Thompson, Anthony E. Valentin and Christina Bach.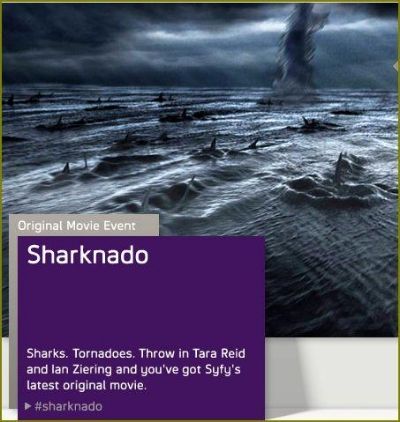 07:00 PM
Sharknado
When a freak hurricane swamps Los Angeles, thousands of sharks terrorize the waterlogged populace, and nature's deadliest killer rules sea, land, and air.
Cast includes Tara Reid, Cassie Scerbo, Ian Ziering, John Heard, Chuck Hittinger, Aubrey Peeples, Jaason Simmons, Adrian Bustamante, Alex Arleo, Diane Chambers, David Bittick, Christopher Wolfe, Connor Weil, Marcus Choi, Sumiko Braun and Neil H. Berkow.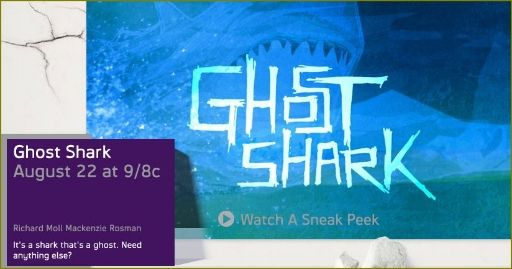 09:00 PM
Ghost Shark
- * Syfy Premiere! *
When a young girl's father mysteriously vanishes in the Gulf of Mexico, she becomes obsessed with finding the truth behind his disappearance, only to discover that the culprit is not only inhuman, but the ghost of a vengeful Great White Shark. Now she must convince the local authorities to trust her wild claims and identify the origins of the spectral predator if she wants to save her friends and family from the unstoppable killing machine.
Cast includes Mackenzie Rosman, Richard Moll, Dave Randolph-Mayhem Davis, Shawn C. Phillips, Amy Brassette, Lucky Johnson, Jaren Mitchell, Tim Taylor, Kim Collins, Carl Palmer, Ronnie Hooks, Thomas Francis Murphy, Sloane Coe and Michael Whitener.
11:00 PM
Shark Assault
(also known as
Shark Week
)
The leader of a drug cartel kidnaps a group of people that all played a part in the death of his son and brings them to a secret, remote island, where they must survive a gauntlet of deadly shark-related traps for seven days in order to escape.
Cast includes Josh Allen, Bart Baggett, Patrick Bergin, Yancy Butler, Erin Coker, Frankie Cullen, Valerie K. Garcia, Robert Matthew Wallace and Eric Scott Wilson.
01:00 AM
Ghost Shark
03:00 AM
Shark Zone