Source:
Syfy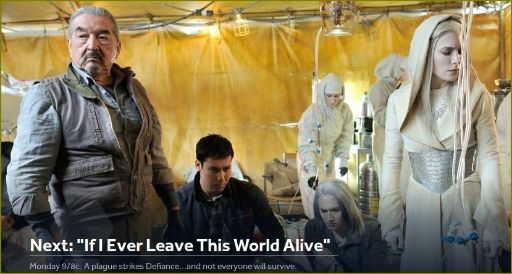 DEFIANCE - SYFY VIDEO: 'IF I EVER LEAVE THIS WORLD ALIVE' EPISODE TRAILER - AIRS MONDAY, JUNE 17, 2013 AT 9/8C
A plague affecting only humans strikes Defiance, which Datak (Tony Curran) takes advantage of. Quentin (Justin Rain) questions Nicky (Fionnula Flanagan) about what really happened to his mother.
The Irathients are quarantined in the mines after
Defiance
is struck by a mysterious plague; and Amanda (
Julie Benz
) reconnects with an old flame from the Earth Republic.
Guest stars include Fionnula Flanagan, Carl Bauer, Mika Collins, Marianthi Evans, Anna Hardwick, Dion Johnstone, Trenna Keating, Jane McLean, Ishan Morris, Perry Mucci and Kevin Shand.