Source: Syfy
schedulebot
[
NOTE: Syfy schedule subject to change(s)
]

SCIFI MOVIE MARATHON - SYFY: SCHEDULE SATURDAY, AUGUST 11, 2013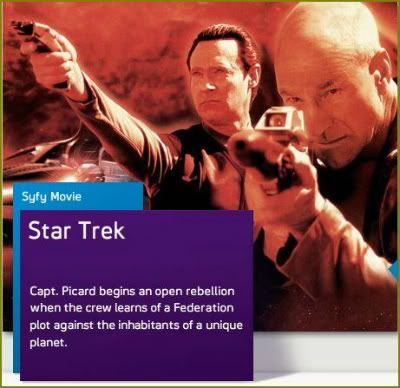 09:00 AM
Star Trek: Insurrection
The ninth film in the series finds Capt. Picard (
Patrick Stewart
) and his crew questioning orders from Starfleet regarding a planet with mystical powers. Ambitious but sluggish.
Directed by
Jonathan Frakes
, who plays Cdr. Riker.
Cast includes Patrick Stewart, Jonathan Frakes, Brent Spiner,
Perception's
LeVar Burton, Michael Dorn, Gates McFadden, Marina Sirtis, F. Murray Abraham, Donna Murphy, Anthony Zerbe, Gregg Henry, Daniel Hugh Kelly and Michael Welch.
11:00 AM
Pandorum
After awakening from hypersleep with no memory of their mission, astronauts Lt. Payton (
Dennis Quaid
) and Cpl. Bower (
Ben Foster
) discover that the 60,000 passengers aboard their vast spacecraft have vanished without a trace. Little do they realize that they will soon be fighting for the survival of the entire human race.
Cast includes Dennis Quaid, Ben Foster, Cam Gigandet, Antje Traue, Cung Le, Eddie Rouse and
The Walking Dead's
Norman Reedus.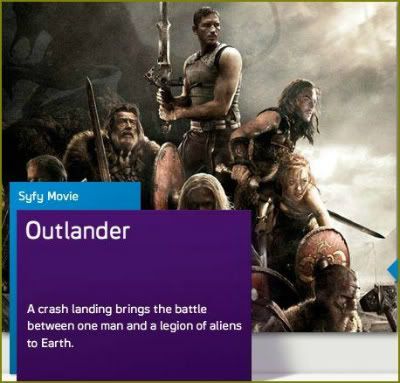 01:30 PM
Outlander
A warrior from space crash-lands into ancient Norway and helps Viking tribes battle a bloodthirsty monster.
Jim Caviezel
stars in this sc-fi adventure fantasy.
Cast includes
Person of Interests'
Jim Caviezel, Sophia Myles, Jack Huston, John Hurt, Cliff Saunders, Patrick Stevenson, Aidan Devine and Ron Perlman.
04:00 PM
Dawn Of The Dead
A nurse, a policeman, a young married couple, a salesman, and other survivors of a worldwide plague that is producing aggressive, flesh-eating zombies, take refuge in a mega Midwestern shopping mall.
Cast includes Sarah Polley, Ving Rhames, Jake Weber, Mekhi Phifer, Ty Burrell, Michael Kelly, Kevin Zegers and
Motive's
Louis Ferreira.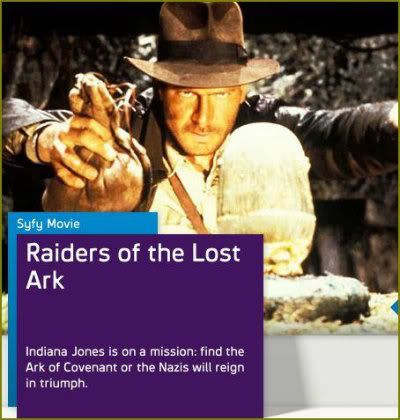 06:30 PM
Raiders Of The Lost Ark
Indiana Jones (
Harrison Ford
) is assigned to find the mystically empowered Ark of the Covenant before the Nazis can obtain it for their own evil use.
Cast includes Harrison Ford, Karen Allen, Paul Freeman, Ronald Lacey, John Rhys-Davies, Denholm Elliott, Alfred Molina and Wolf Kahler.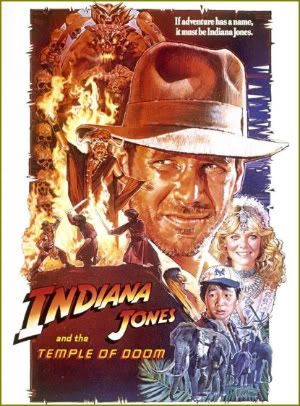 09:00 PM
Indiana Jones And The Temple Of Doom
Harrison Ford
gets help from a feisty heroine (
Kate Capshaw
) and a sawed-off sidekick (
Ke Huy Quan
) in this "
Raiders
" prequel featuring a sacred jewel, a bloodthirsty cult, human sacrifices, runaway mining cars, a chamber of scorpions and a perilous bridge.
Cast includes Harrison Ford, Kate Capshaw, Jonathan Ke Quan, Amrish Puri, Roshan Seth, Philip Stone, Roy Chiao and David Yip.
11:30 PM
Dawn Of The Dead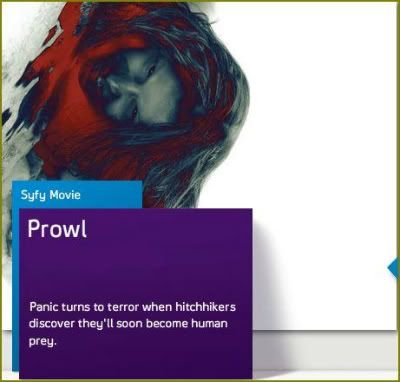 02:00 AM
Prowl
Amber (
Courtney Hope
) and her friends become prey for a hungry pack of flesh-eating creatures after they accept a ride from a trucker, who takes them to an abandoned warehouse to be hunted.
Cast includes Ruta Gedmintas, Joshua Bowman, Perdita Weeks, Jamie Blackley, Courtney Hope, Saxon Trainor and Bruce Payne.