Source:
My Fanbase
[follow link for complete interview]

GAME OF THRONES - MY FANBASE: KIT HARINGTON INTERVIEW
This exclusive interview with
Kit Harington
was made available to us by
HBO
and
Sky Germany
. The British actor
Kit Harington
plays his first leading role, Jon Snow, on the HBO fantasy drama "
Game of Thrones
" which is based on the fantasy saga by
George R. R. Martin
. In this interview
Kit
talks about the development of his character through the first and second season, teases new adventures in season 3 and speaks about what he likes most about his work...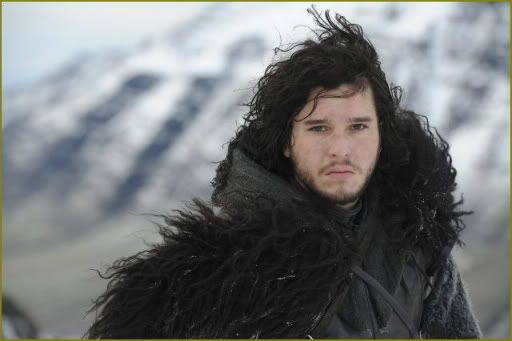 ...
Q: At the end of last season we saw the White Walkers emerging en masse. How do you feel about the supernatural having an increased role in Game of Thrones?
Kit Harington
: "
In the first season everyone said, "Game of Thrones is great: it's a fantasy but there's no magic. It's really based in reality." Then as we go along the magic gradually starts coming out of the woodwork, like it does in the books, and everything starts getting very strange: you've got White Walkers, you've got witches, you've got dragons. I think that's one of the most exciting things, it creeps up on you and before you know it you're in a proper fantasy with dragons and ice zombies, but it's done in a very, very clever way. It's what the series is really about for me, peoples' worlds just falling apart. They start in quite a secure place and by the time you get to where we are now, everyone's lives are disintegrating because of the magic around them and the 'winter is coming' theme. Everything's getting blown apart. I love that about the series.
"
...
Q: Which other character would you like to play if you could?
Kit Harington
: "
I've always loved Tyrion. I couldn't play him, obviously, but I think Peter [Dinklage] does such a wonderful job with him. When I was reading the books I always loved reading Jon Snow's parts because that's who I was going to play. But then I'd also get excited when I got to Tyrion's sections. Their dynamic together is intriguing as well because they like each other. I guess they're both outsiders...
"
Game of Thrones
season four premieres Spring 2014 on
HBO
.