Source: Syfy
schedulebot
[
NOTE: Syfy schedule subject to change(s)
]

SUPERNATURAL MOVIE MARATHON - SYFY: SCHEDULE SUNDAY, JUNE 23, 2013
09:00 AM
Pulse
When their computer hacker friend accidentally channels a mysterious wireless signal, a group of co-eds rally to stop a terrifying evil from taking over the world.
Cast includes Kristen Bell,
The Vampire Diaries'
Ian Somerhalder, Christina Milian, Rick Gonzalez, Jonathan Tucker, Samm Levine, Octavia Spencer, Ron Rifkin and Brad Dourif.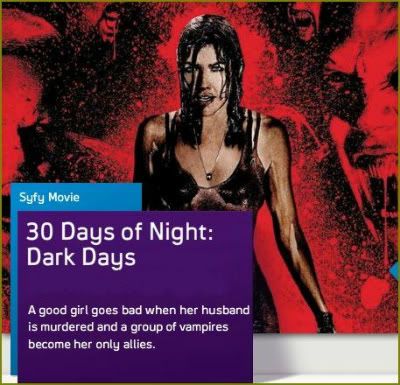 11:00 AM
30 Days Of Night: Dark Days
Following the gruesome vampire siege in Barstow, Alaska, Stella (
Kiele Sanchez
) moves to L.A. and decides to avenge the death of her husband by bating the local bloodsucking population into a fight.
Cast includes Kiele Sanchez, Rhys Coiro, Diora Baird, Harold Perrineau,
Defiance's
Mia Kirshner, Troy Ruptash, Ben Cotton, Katharine Isabelle and Jody Thompson.
01:00 PM
Stake Land
After vampires overtake America, orphaned teen Martin (
Connor Paolo
) and survivalist Mister (
Nick Damici
) find themselves locked in a battle against a dangerous religious cult lead by the diabolical Jebedia Loven (
Michael Cerveris
). Later, Martin and Mister are joined by a group of weary travelers trying to find a sanctuary known as New Eden.
Cast includes Nick Damici, Connor Paolo, Sean Nelson,
Fringe's
Michael Cerveris, Bonnie Dennison, Chance Kelly, Tim House, Larry Fessenden and Kelly McGillis.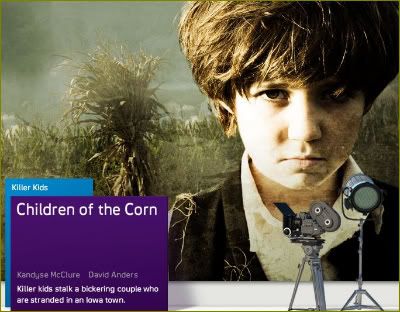 03:00 PM
Children Of The Corn
A couple (
David Anders, Kandyse McClure
) try to save their marriage with a road trip, which gets derailed when they find a strange rural town ruled by fanatically religious children. Based on the
Stephen King
short story.
Cast includes David Anders, Kandyse McClure, Daniel Newman, Preston Bailey and Robert Gerdisch.
05:00 PM
My Soul To Take
A serial killer returns 16 years after his death to claim the seven children born on the night he was killed. Meanwhile, the maniac's son Adam (
Max Thieriot
)---one of his intended victims---battles to lay his father's bloody legacy to rest.
Cast includes Max Thieriot, John Magaro, Denzel Whitaker, Zena Grey, Nick Lashaway, Paulina Olszynski, Jeremy Chu, Emily Meade, Raúl Esparza, Jessica Hecht, Frank Grillo, Danai Gurira, Harris Yulin, Shareeka Epps, Elena Hurst, Dennis Boutsikaris and Felix Solis.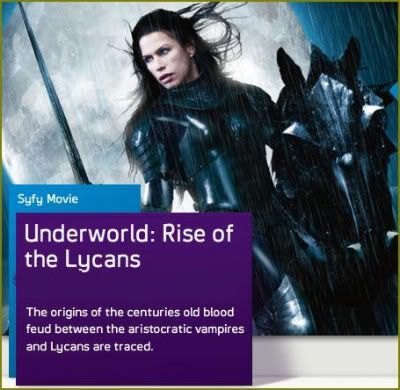 07:00 PM
Underworld: Rise Of The Lycans
A prequel to the first two Underworld films, this fantasy explains the origins of the feud between the Vampires and the Lycans. Aided by his secret love, Sonja (
Rhona Mitra
), courageous Lucian (
Michael Sheen
) leads the Lycans in battle against brutal Vampire king Viktor (
Bill Nighy
). Determined to break the king's enslavement of his people, Lucian faces off against the Death Dealer army in a bid for Lycan independence.
Cast includes Michael Sheen, Bill Nighy, Rhona Mitra, Steven Mackintosh, Kevin Grevioux, David Aston, Geraldine Brophy and Leighton Cardno.
09:00 PM
The Ruins
Four American tourists vacationing in Cancun visit an archaeological dig with some foreign friends in the Mayan jungle, but when local villagers attack them, they become trapped in a temple covered in vines that seem to be alive.
Cast includes Jonathan Tucker, Jena Malone, Laura Ramsey,
The Following's
Shawn Ashmore, Joe Anderson and Dimitri Baveas.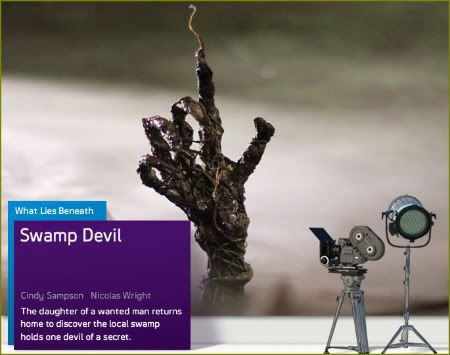 11:00 PM
Swamp Devil
A father is accused of committing murders in a small town in America's deep south, prompting his daughter to clear his name and inadvertently expose the inhuman killer behind the crimes.
Cast includes Bruce Dern, Cindy Sampson, Nicolas Wright, Robert Higden and Allison Graham.
01:00 AM
Pulse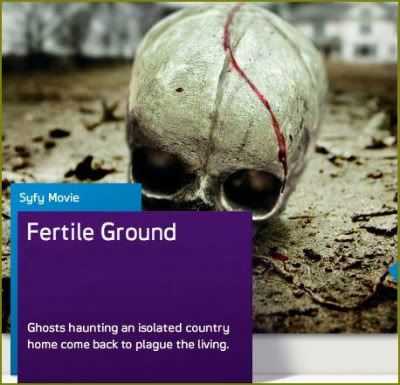 03:00 AM
Fertile Ground
Expectant couple Emily (
Leisha Hailey
) and Nate Weaver move to a secluded home in New Hampshire and are haunted by a malevolent entity that takes possession of Nate and threatens to destroy their family.
Cast includes Gale Harold, Leisha Hailey, Chelcie Ross and Jami Bassman.