Source: Syfy
schedulebot
[
NOTE: Syfy schedule subject to change(s)
]

DINOSAUR MOVIE MARATHON - SYFY: SCHEDULE THURSDAY, AUGUST 29, 2013
11:00 AM Attack Of The Sabretooth
A would-be entrepreneur (
Nicholas Bell
) hungering to humiliate his former brother-in-law (
Robert Carradine
) unwittingly unleashes a genetically altered beast in a gruesome tale set on a Pacific island.
Cast includes Robert Carradine, Nicholas Bell, Brian Wimmer, Stacy Haiduk, Rawiri Paratene, Susanne Sutchy, Cleopatra Coleman, Amanda Stephens, Natalie Avital, Billy Aaron Brown, Parry Shen, Nathaniel Kiwi and Bonnie Piesse.
01:00 PM Maneater
A former
FBI
profiler, now a sheriff of a small town and a single parent of a high school aged daughter, begins to profile a series of unexplained murders only to learn that the monster he's profiling may be himself.
Cast includes Dean Cain, Lacy Phillips, Stephen Lunsford, Christopher Darga, Nikki Moore, Maximillian Roeg, Ellie Gerber, Saginaw Grant, Conrad Janis, Donna W. Scott, Damara Reilly, Cord Jackman, Patrick Shining Elk, John Brady, Tanner Novlan, Allison Kyler and Paul Schackman.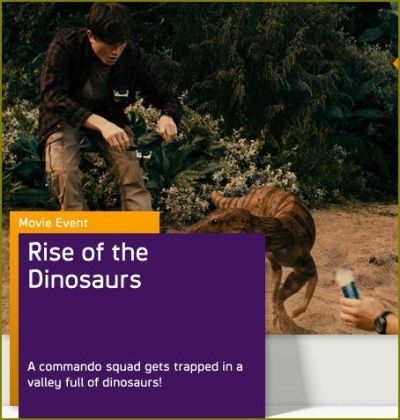 03:00 PM Rise Of The Dinosaurs
While returning from a military expedition to rescue a beautiful kidnapped scientist an elite commando unit crash lands in a dense, remote tropical jungle. The commandos find themselves cut off from radio contact in a lost world populated by dinosaurs. Hunted on all sides and with their ammunition dwindling they must find a way to escape and return to civilization before becoming prey to the prehistoric predators.
Cast includes Gary Stretch,
Stargate SG-1's
Corin Nemec, Vernon Wells, Michael Worth, Natascha Berg, Alicia Ziegler, Israel Sáez de Miguel, Adrian Clissold, Philip Coc, Ganney Dortch, Aaron Erskine, John Frear, Stevie Hack, Kameisha Harris, Adran Ramirez, Jason Taylor and Berne Velasquez.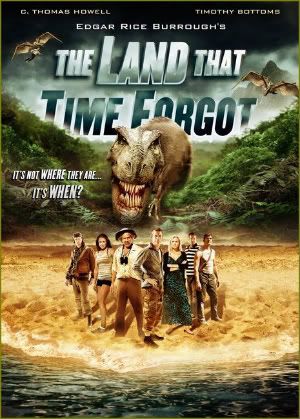 05:00 PM The Land That Time Forgot
C. Thomas Howell
directs and stars in this adaptation of the
Edgar Rice Burroughs
tale in which dinosaurs threaten shipwreck survivors who are stranded on a mysterious island.
Cast includes C. Thomas Howell, Timothy Bottoms, Lindsey McKeon, Darren Dalton, Stephen Blackehart, Christopher Showerman and Patrick Gorman.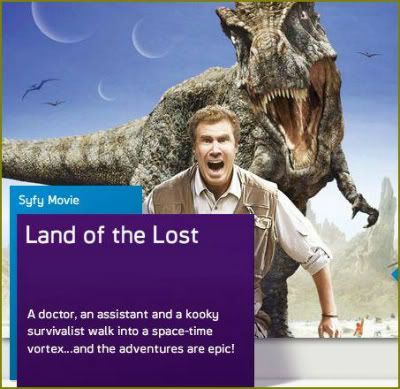 07:00 PM Land Of The Lost
Discredited scientist Dr. Rick Marshall (
Will Ferrell
) proves his outrageous theories on time travel are true, but in the process he gets stranded with his partners in a strange world full of unusual creatures. His loyal research assistant Holly (
Anna Friel
) and firearms enthusiast Will (
Danny McBride
) help Marshall befriend a monkey-like beast named Chaka (
Jorma Taccone
) in an attempt to get back home.
Cast includes Will Ferrell, Anna Friel, Danny McBride, Jorma Taccone and John Boylan.
09:00 PM Age Of Dinosaurs
- * Syfy Premiere! *
Aw hell nah. Age of Dinosaurs premieres Thursday at 9/8c.
Using breakthrough flesh-regeneration technology, a biotech firm creates a set of living dinosaurs. But when the creatures escape their museum exhibit and terrorize Los Angeles, a former firefighter (
Treat Williams
) must rescue his teenage daughter (
Jillian Rose Reed
) from the chaos brought on by the
Age of Dinosaurs
.
Cast includes Treat Williams, Ronny Cox, Jillian Rose Reed, Joshua Michael Allen, Max Aria, Johannes Goetz, Julia Paul, Arthur Richardson, Jose Rosete, Laura Tuny, Roani Whent, Kelly Dolan, Andray Johnson and Roger Lim.
11:00 PM Land Of The Lost
01:00 AM Age Of Dinosaurs
03:00 AM Raptor Island
Lively paced monster mish-mash starring
Lorenzo Lamas
as a Navy
SEAL
whose pursuit of a terrorist leads his team to a strange island filled with ravenous prehistoric raptors.
Cast includes Lorenzo Lamas, Steven Bauer, Hayley DuMond, Michael Cory Davis, Peter Jason, Hristo Shopov, Atanas Srebrev, Ivo Tonchev, Michail Elenov, Julian Vergov, Pavil Gavrilov, Velislav Pavlov and Dejan Angelov.