Source: Syfy
schedulebot
[
NOTE: Syfy schedule subject to change(s)
]

VAMPIRE MOVIE MARATHON - SYFY: SCHEDULE SATURDAY, AUGUST 31, 2013
09:00 AM Dracula 2000
- * NEW to Syfy! *
Thieves break into a vault owned by an antique dealer (
Christopher Plummer
) and discover that he is harboring Dracula (
Gerard Butler
) there.
Cast includes Gerard Butler, Christopher Plummer,
Elementary's
Jonny Lee Miller, Justine Waddell, Colleen Fitzpatrick, Jennifer Esposito, Omar Epps, Sean Patrick Thomas, Danny Masterson, Lochlyn Munro, Tig Fong, Tony Munch, Jeri Ryan, Shane West,
Castle's
Nathan Fillion, Tom Kane, Jonathan Whittaker and Robert Verlaque.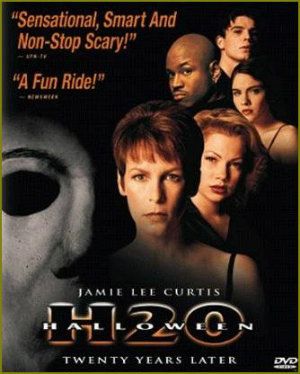 11:00 AM Halloween H2o
Laurie Strode (
Jamie Lee Curtis
), now the dean of a Northern California private school with an assumed name, must battle the Shape one last time and now the life of her own son hangs in the balance.
Cast includes Jamie Lee Curtis, Adam Arkin, Michelle Williams, Adam Hann-Byrd, Jodi Lyn O'Keefe, Janet Leigh, Josh Hartnett,
NCIS: Los Angeles'
LL Cool J, Joseph Gordon-Levitt, Beau Billingslea, John Cassini, Jody Wood and Chris Durand.
01:00 PM Nightmare On Elm Street 3: The Dream Warriors
Robert Englund
returns as the man of your dreams, terrorizing teens and driving them to suicide.
Cast includes Heather Langenkamp, Craig Wasson, Patricia Arquette, Robert Englund, Ken Sagoes, Rodney Eastman, Jennifer Rubin, Bradley Gregg, Ira Heiden, Laurence Fishburne, Penelope Sudrow, John Saxon, Priscilla Pointer, Clayton Landey, Brooke Bundy, Nan Martin, Stacey Alden, Dick Cavett, Zsa Zsa Gabor amd Paul Kent.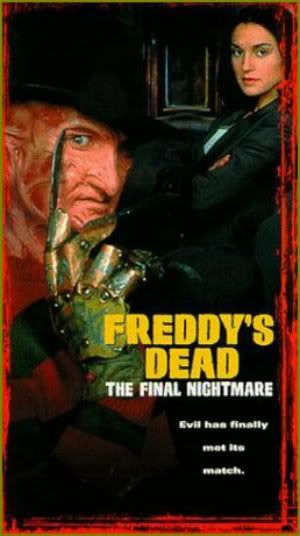 03:00 PM Freddy's Dead: The Final Nightmare
Elm Street's sadistic sandman (
Robert Englund
) encounters his long-lost daughter (
Lisa Zane
).
Cast includes Robert Englund, Lisa Zane, Shon Greenblatt, Lezlie Deane, Ricky Dean Logan, Breckin Meyer, Yaphet Kotto, Tom Arnold, Roseanne, Elinor Donahue, Johnny Depp, David Dunard, Marilyn Rockafellow and Lindsey Fields.
05:00 PM Freddy Vs. Jason
After Freddy (
Robert Englund
) resurrects Jason (
Ken Kirzinger
), the slasher-film icons go on a killing spree, but clash over who is doing a better job.
Cast includes Robert Englund, Ken Kirzinger, Monica Keena, Jason Ritter, Kelly Rowland, Chris Marquette, Brendan Fletcher, Katharine Isabelle, Lochlyn Munro, Kyle Labine, Tom Butler, David Kopp, Garry Chalk,
Eureka's
Chris Gauthier.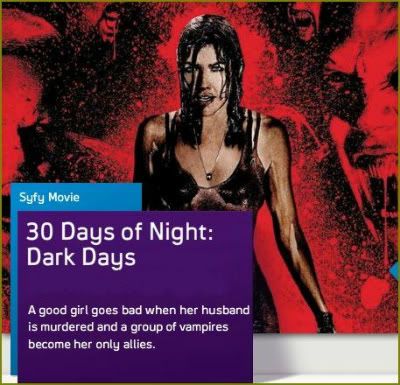 07:00 PM 30 Days Of Night: Dark Days
Following the gruesome vampire siege in Barstow, Alaska, Stella (
Kiele Sanchez
) moves to L.A. and decides to avenge the death of her husband by bating the local bloodsucking population into a fight.
Cast includes Kiele Sanchez, Rhys Coiro, Diora Baird, Harold Perrineau,
Defiance's
Mia Kirshner, Troy Ruptash, Ben Cotton, Katharine Isabelle and Jody Thompson.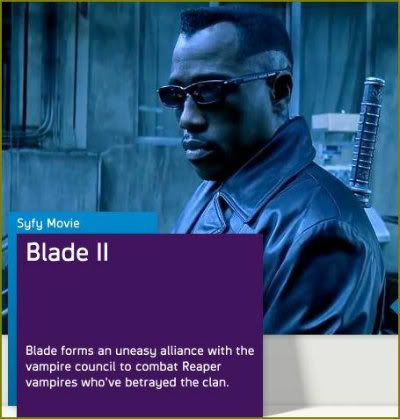 09:00 PM Blade II
A vampire slayer (
Wesley Snipes
) teams up with the undead to take down a band of mutant bloodsuckers.
Cast includes Wesley Snipes, Kris Kristofferson, Ron Perlman, Leonor Varela,
The Walking Dead's
Norman Reedus, Luke Goss and
Defiance's
Tony Curran.
11:30 PM Nightmare On Elm Street 3: The Dream Warriors
01:30 AM Freddy's Dead: The Final Nightmare
03:30 AM Dracula 2000